Traditional Tales - Little Red Riding Hood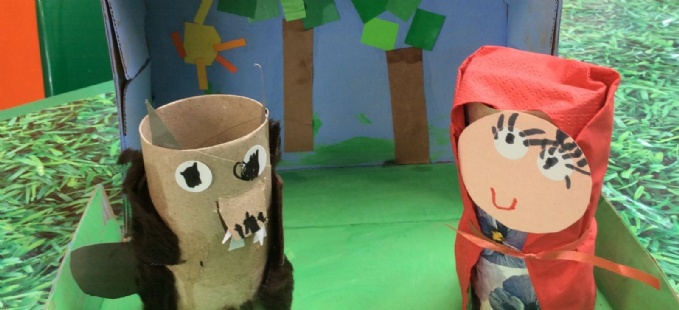 The Wolf came back to the Antelopes class for a second visit - this time trying to eat Little Red Riding Hood and her Grandma!
The role play area became Granny's cottage with masks, costumes and props to pretend to be the characters of Little Red Riding Hood, Granny, the Wolf, and the Woodcutter (or Woodchopper as the Antelopes kept calling him!). It was fun to dress up as the characters and use different voices for each one!

We could also retell the story in the small world area using wooden characters. Our favourite one was the Wolf as on one side he was the Wolf, but on the back he was dressed up in Grandma's nightdress!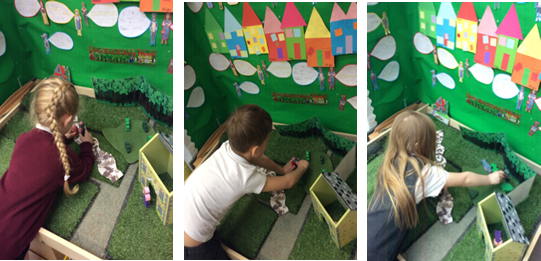 We then made our own small world's when we made shoebox dioramas. First we painted the sky and grass then we added collage materials to create trees and a sun. That completed our scenery for the story, so then we made our characters from cardboard tubes and different collage materials including fur, ribbon and red napkin capes!
Once we had made a Little Red Riding Hood and a Wolf we were ready to play with them inside our dioramas.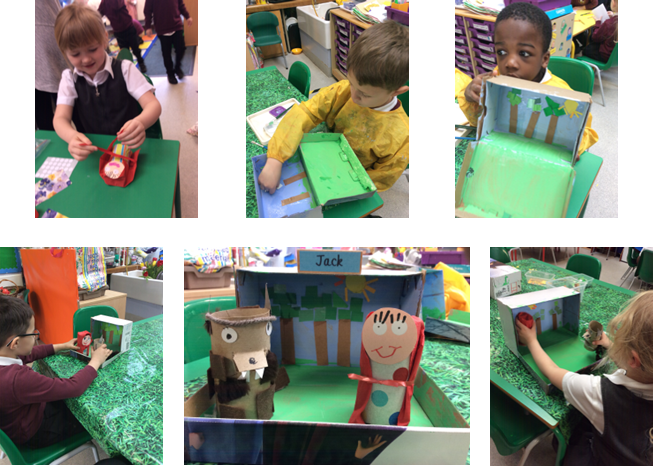 We learnt how to weave using paper strips in a card frame then tried making baskets out of brown playdough with colourful miniature fruits inside.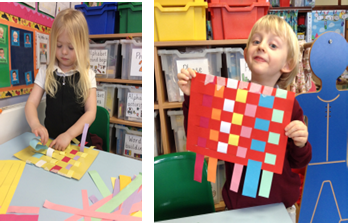 Then we worked on a tricky challenge as Miss Wheatley asked us to make baskets using Magnetic Polydron with a pipe cleaner for a handle. The tricky bit was that we had to put some pretend fruits inside, but they kept falling through the holes! So we had a selection of 2d shapes to put inside our baskets to keep the fruit in. We looked for the correct shapes to fit and kept trying different ideas until we found a solution!
Great thinking Antelopes!

Our next fruity job was an observational drawing of a bowl of fruit. We looked carefully to draw what we could see and tried to get the right shapes and add details. Once we had drawn our fruit we chose accurate colours from our pastels to colour our creations.
They look good enough to eat!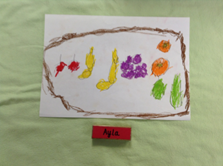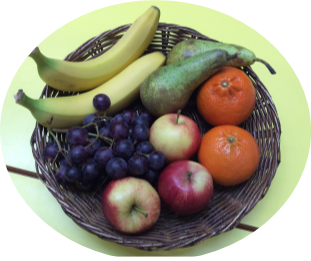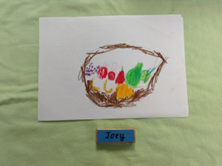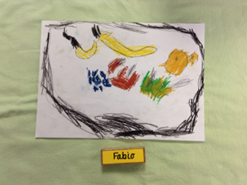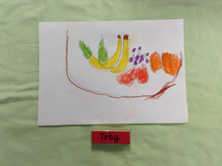 Here's some real fruit that we did eat! Our focus in Mastering Number was on making 7, so we counted out 7 pieces of fruit to make a tasty fruit kebab to eat for snack.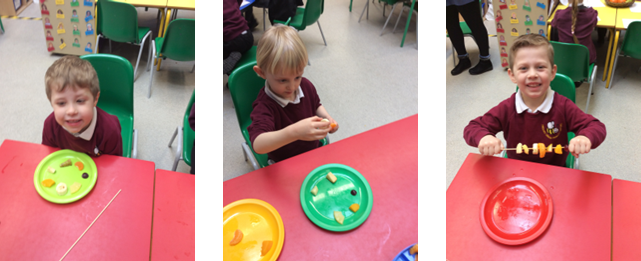 We also looked at combinations totalling 7 using the pretend fruit and a fruit bowl. We counted how many pieces were inside the bowl and how many were on the table and practised saying the sentence.......7 is made of _ and _.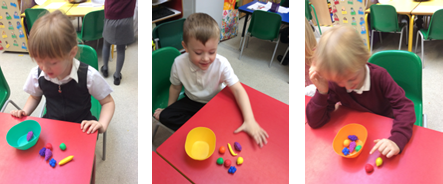 We looked at how to make 7 using Numicon, Unifix, beanbags inside and outside of a hoop, and played a Unifix game with a partner where one of us made a stick of 7 cubes then hid it and broke off some cubes. We showed our partner some of the cubes and they had to guess how many we were hiding to make a total of 7.

As well as taking fruit to Grandma, Little Red Riding Hood took some flowers, so we did another observational drawing of a vase of tulips.
We thought the bright pastels were just the right colour to bring our drawings to life.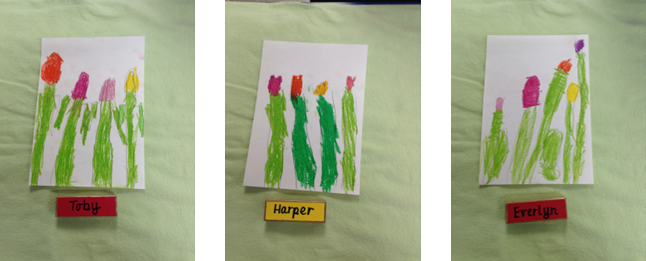 One of our writing tasks was to make a Get Well card for Gran..........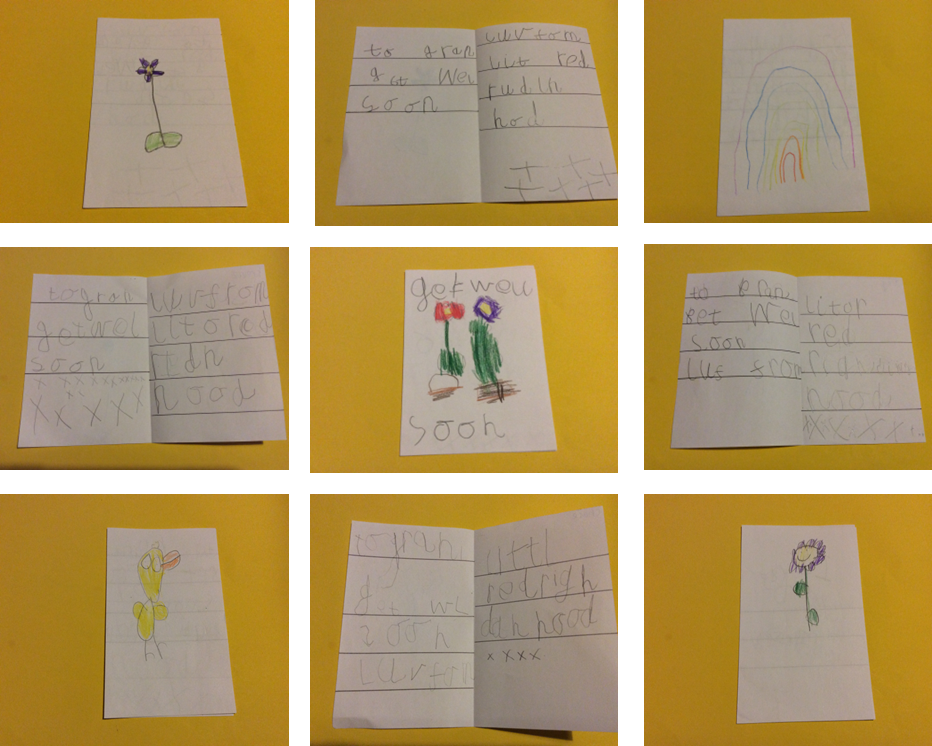 .......and we also labelled pictures of Little Red Riding Hood and the Wolf, and made posters warning people about the Wolf! We used some really effective words to describe the Wolf and to tell people what to do if they see him!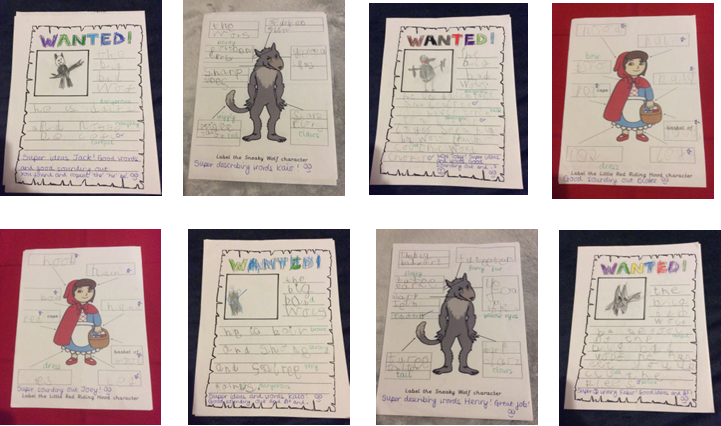 Our topic on Traditional Tales is finished now, so we will just leave you with a photo of our display which we have been creating throughout this half term.