English
Reading and Spelling Scheme
EYFS
Your child's reading journey begins in EYFS, firstly through sharing a love of books. Both classes have an open and inviting book corner for children to self-select books to read, share and enjoy. These consist of both fiction and non-fiction books, comics and magazines, aiming to widen children's experiences and love of reading material. Children will have a book read to them, at least once a day, often at lunch and home time, to share ideas together, learning basic words such as author, illustrator and title, and sharing ideas.
Children will take part in a daily, 20 minutes phonics session, teaching systematic synthetic phonics (SSP) and using Bug club books. This programme consists of 6 phases, and most children in EYFS will work through phases 1 to 4.
In phonics, children will learn letter sounds, digraphs and trigraphs. They will also learn the skills of oral blending and segmenting as a prelude to reading. Children will practise these skills throughout the session and will bring home activities related to the stage they are working at, for example games to support oral blending e.g. I say c-a-t, cat, you say c-a-t, cat, and word cards to read and support visual blending e.g. CVC flashcards to blend the letter sounds to read the words. When children start to become confident with oral and visual blending, they will move on to reading books. We follow the Bug Club reading scheme and children will bring home a phonetically decodable book which matches the sounds they are learning in phonics that week. These will be changed once children have mastered reading their book, which is usually over a minimum of three reads. It is vital children get the opportunity to read and develop their confidence over time with their reading book, in order to develop fluency when reading. Within the phonics sessions, children will learn high frequency and tricky words such as I, no, go, to, and the, related to the phonics phase. These words will be learnt by sight to encourage a rapid recall when reading.
Each child will take home a weekly 'sharing book'. These story books are for sharing with an adult at home to develop a love for reading with others. Children can discuss the story line and characters, give their opinions and thoughts, make comments and predictions and learn early inference skills. Children explore rhyme, alliteration and nonsense words throughout their reading journey in EYFS and a book of the week linked to our topic broadens their reading experience.
KS1
At Beckers Green Primary School, we teach reading through daily phonics lessons, using a systematic and synthetic approach using Bug Club books. This groups letters (graphemes) together according to their sound (phoneme). By doing this, the children are able to identify when certain graphemes are used. For example, the ay sound has numerous graphemes, for example ai, a-e, eigh. The children will learn where these sounds are likely to be positioned. This helps improve their spelling and overall understanding of the English language.
The children will also have a daily tricky word lesson where they revise previously learnt words before being introduced to a new one. Once they have learnt all the tricky words, they focus on the common exception words.
Our reading scheme is designed to encourage the children to practise reading words with the sounds that they are learning. This means that it can be tailored to each child. The children are given a paper copy of a book, as well as access to the online Bug Club books. Their reading records are looked at daily and each child is heard at least weekly by an adult in the classroom. Their books are changed once they have read it at least twice to a fluent level. Once the children have a secure grasp of all sounds, they move onto Accelerated Reader books. This computer-based programme enables children to complete a quiz on the content of the book they have just read.
As well as their reading book, the children will also take home a library book which is one that they will choose. This book will be changed weekly and is designed to develop pleasure for reading.
KS2
In Key Stage Two, we teach reading through Reading Skills lessons. Forming part of our English lessons each week, Reading Skills lessons aim to cover the skills deemed necessary to become active, engaged and skilled readers. Class texts linked to topics are used as whole class readers to support the delivery of these lessons and writing projects. Children will take part in a variety of whole class activities practising a wide variety of skills such as:
Prediction
Skimming
Scanning
Navigating texts
Exploring vocabulary
Sequencing events
Justifying opinions
Making inferences
Summarising
Making comparisons
Generalising
Activating prior knowledge
There will be opportunities throughout the week for children to read for pleasure, this time can also be used to access the Accelerated Reader programme, where children can quiz on the content of their personal reading books. This computer-based programme has thousands of quizzes based on the content of many well-known books and it assesses children's comprehension skills. The majority of the books in school (and books you may have at home) are available on this system.
Every class from Year 2 to 6 has a Reading Ambassador, who is voted for by the children. On a weekly basis they visit another class and read to the children or discuss a book they are currently reading. Children are encouraged to ask questions and we hope children will aspire to read books from different authors. We also hold in class book clubs where children get to share the book they are reading with others, to review it and offer recommendations. Year 6 also provide Reading prefects, who listen to younger children read during lunchtime reading club.
As a Key Stage, we have devised our own scheme for spelling which follows the new framework from the National Curriculum. In accordance with this, the children will be taught spelling conventions each week delivered in specific spelling sessions. Children will develop strategies to help them spell both common and exception words, including those listed for their year group. It is important that children have exposure to a broad range of vocabulary, through reading widely and investigating spelling patterns in order to increase their accuracy when spelling new words and to increase their curiosity in language.
Follow the link below to accelerated reader where your children can quiz on the books they have read:
https://ukhosted50.renlearn.co.uk/2237331/Public/RPM/Login/Login.aspx?srcID=s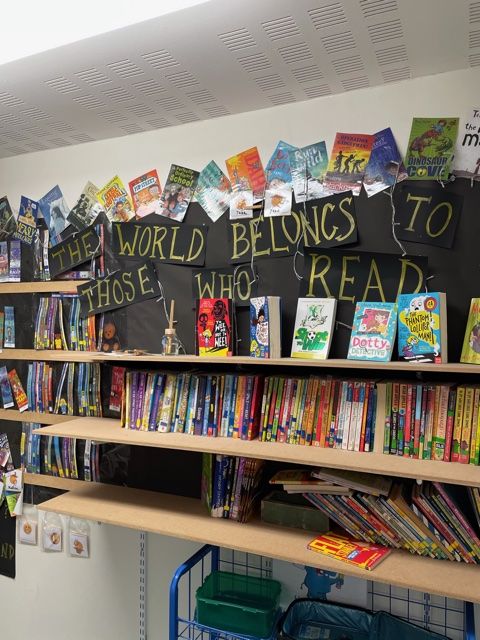 WRITING AT BECKERS GREEN
Intent:
Writing is absolutely central to teaching and learning at Beckers Green. Our children are provided with every opportunity, as well as the necessary means, to produce high-quality writing for a range of purposes. Our aim is to develop writers who are as fluent as they are satisfied at having produced outcomes of the highest standard.
We expect our children to:
develop a fluent, confident and effective writerly voice expressed through a range of text types
develop an enjoyment of the English language through being able to write for a given purpose in a structured, organised as well as imaginative way
develop the discipline of systematically planning, drafting, amending, improving and evaluation each writing project
make explicit connections between oracy and literacy
consolidate growing lexical and grammatical recognition skills through the application of them in writing
draw lasting satisfaction from having their writing published and displayed across the school
The aim is always that pupils will leave our school as confident and formidable communicators in both the spoken and written word.
Implementation:
Throughout the school the Text Builder model is used to clearly define the progression of skills. Throughout the school day children engage in an enriching variety of activities designed to develop, consolidate and extend their literacy skills. These include:
daily phonics session in EYFS and KS1
grammar taught as an integral and complimentary component of writing process itself
spelling taught on a building block basis, graduating from phonemes and graphemes to root words, prefix, suffix, word families and etymology
regular rehearsal of themes in writing projects through discussion, debate and drama
a high quality set text which is analysed in detail in reading skills lessons and used as the basis for many of the written responses in English lessons
via the Text Builder model, an encouragement of independence by means of a gradual and strategic removal of scaffolding in favour or more open ended planning formats
children respond to, and actively participate in, the live modelling of the teacher, following the principle of I do, we do, you do
stamina build through time allotted to proof reading and amending, as well as further planned rewrites before publishing
detailed self evaluation opportunities are used to consolidate learning and celebrate good progress