Mad About Dinosaurs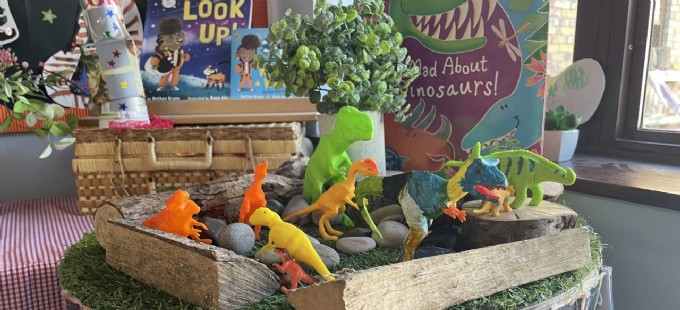 We have been Mad About Dinosaurs for the final two weeks in the Bears class. Our story to share, Mad About Dinosaurs, is a colourful, rhyming picture book, full of fun dinosaur facts, written by Giles Andreae and David Wojtowycz.
Our small world became a dinosaur habitat for the children to explore and on the role play we were palaeontologists in a Dinosaur Museum, studying dinosaurs and prehistoric life.
As palaeontologists, we have unearthed fossils in sand and ice, and developed our skills to dig and brush around the fossil (chocolate chips in a cookie) to carefully excavate with minimal damage.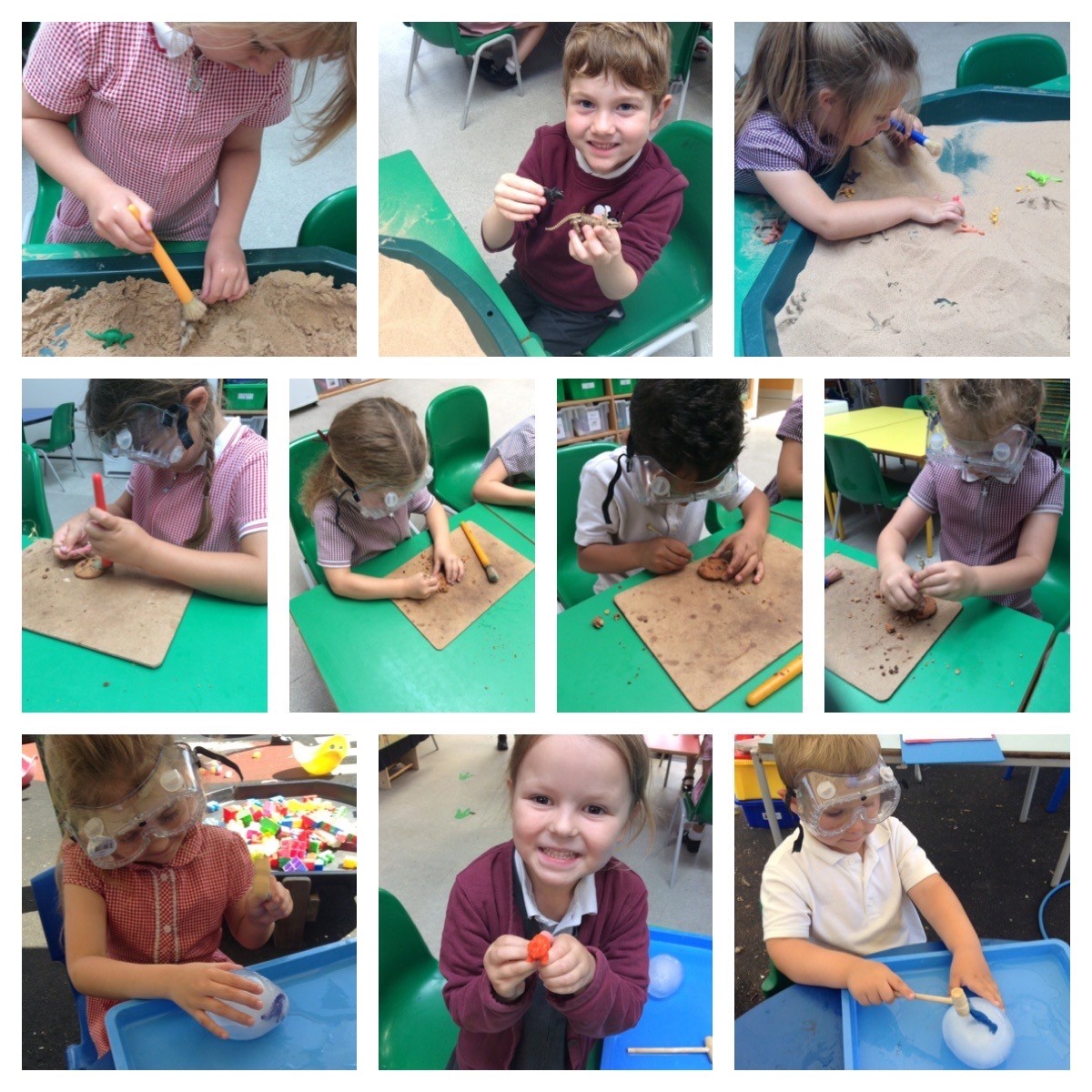 We haven't just unearthed fossils, we have created our own fossils too. First, we used pasta shapes to create a fossil pattern in play dough, then we made a fossil with clay. We rolled the air dry clay into a ball, flattened it with a rolling pin, then pressed the dinosaur into the clay, taking care to press the individual parts into the clay with a rolling action.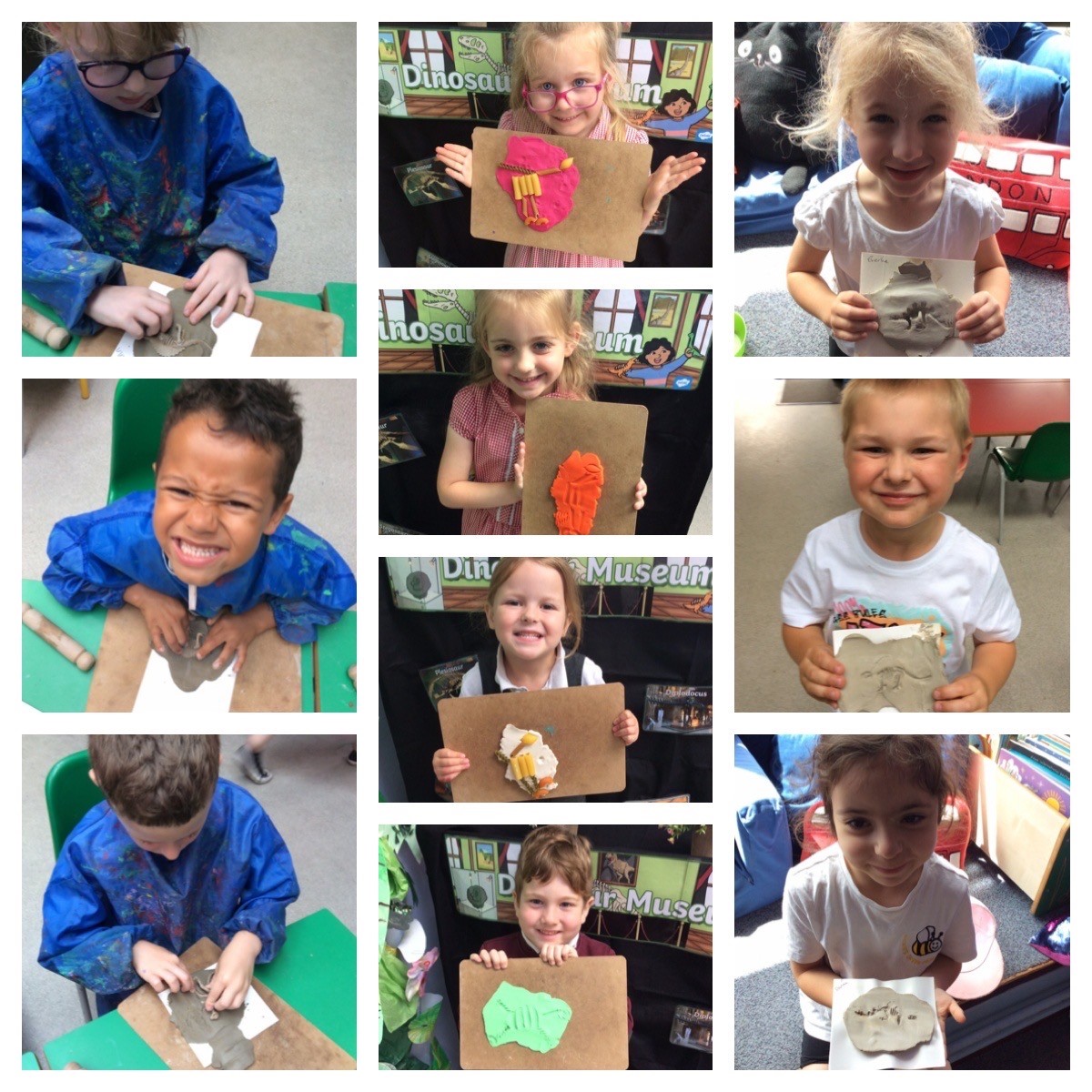 We have used books and iPads to name and research dinosaurs and have used the facts that we discovered to create our own dinosaur Top Trump card. We named and labelled our very own handprint painted dinosaurs and included dinosaur features such as a frill or plates.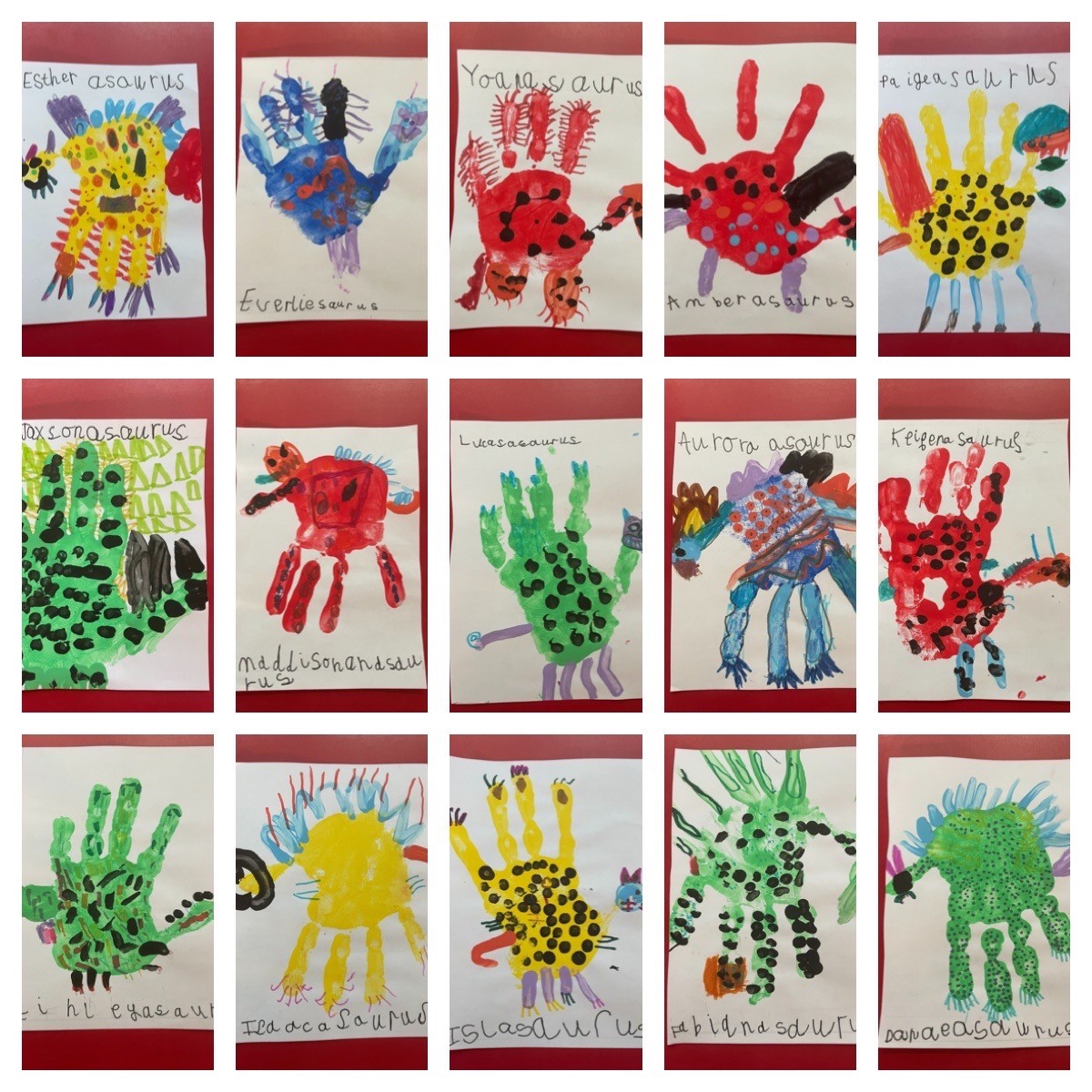 We have produced an amazing array of art with different techniques and mediums, in the Bears this year. The classroom has always looked vibrant and fun, and has reflected our learning and topics. It was sad to take these down, but we hope you will love to have them on display at home.
Our dinosaur creations included handprint dinosaurs with a landscape collage, sunset silhouette dinosaurs with watercolours, and painted paper plate dinosaurs.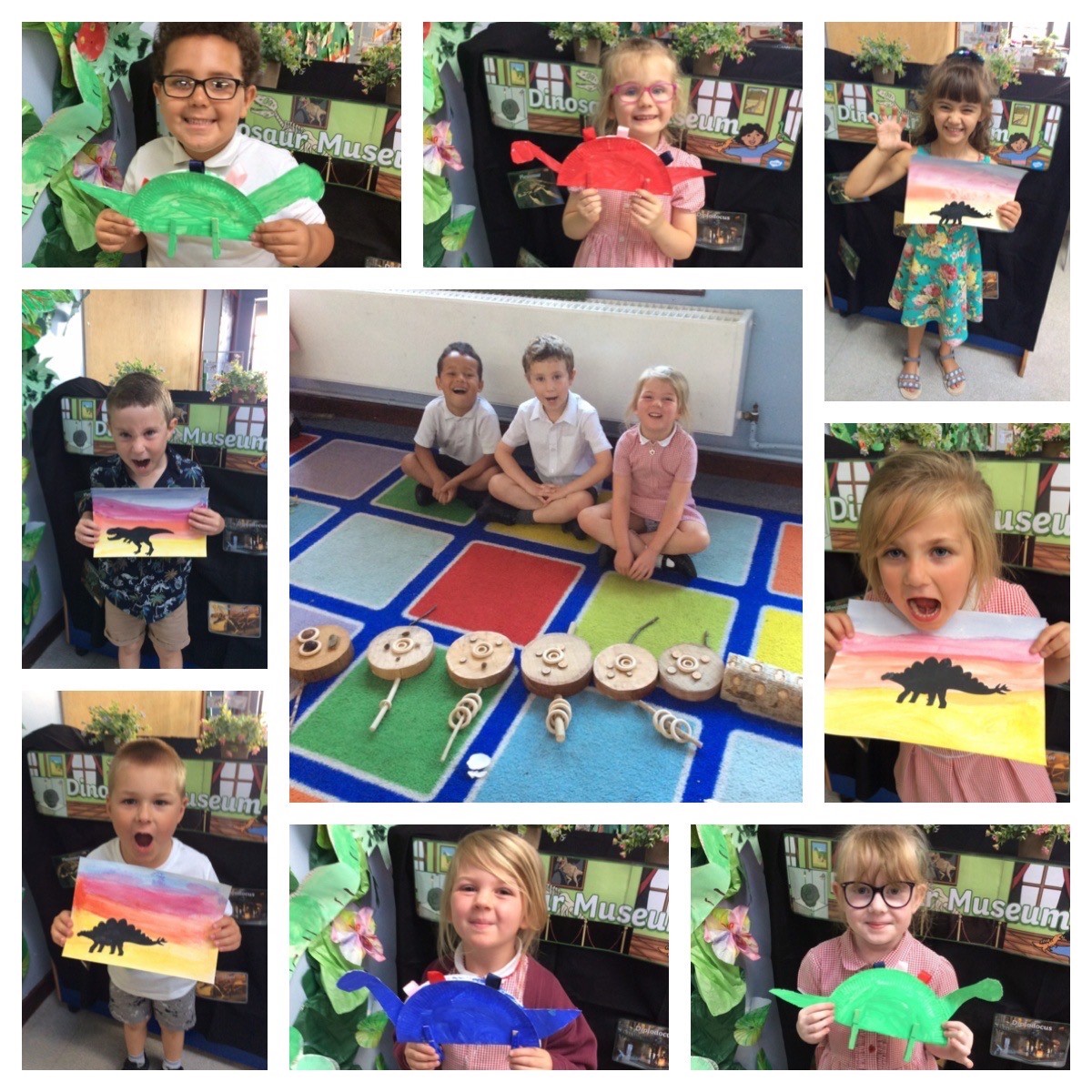 Our last day together was filled with teamwork, smiles, and laughter. In the morning, we went on a dinosaur quest around school searching, hiding, collecting, measuring and creating everything dinosaur. Then after lunch, we visited our new classrooms, danced, played games, sang, ate party food and even did a conga around the school.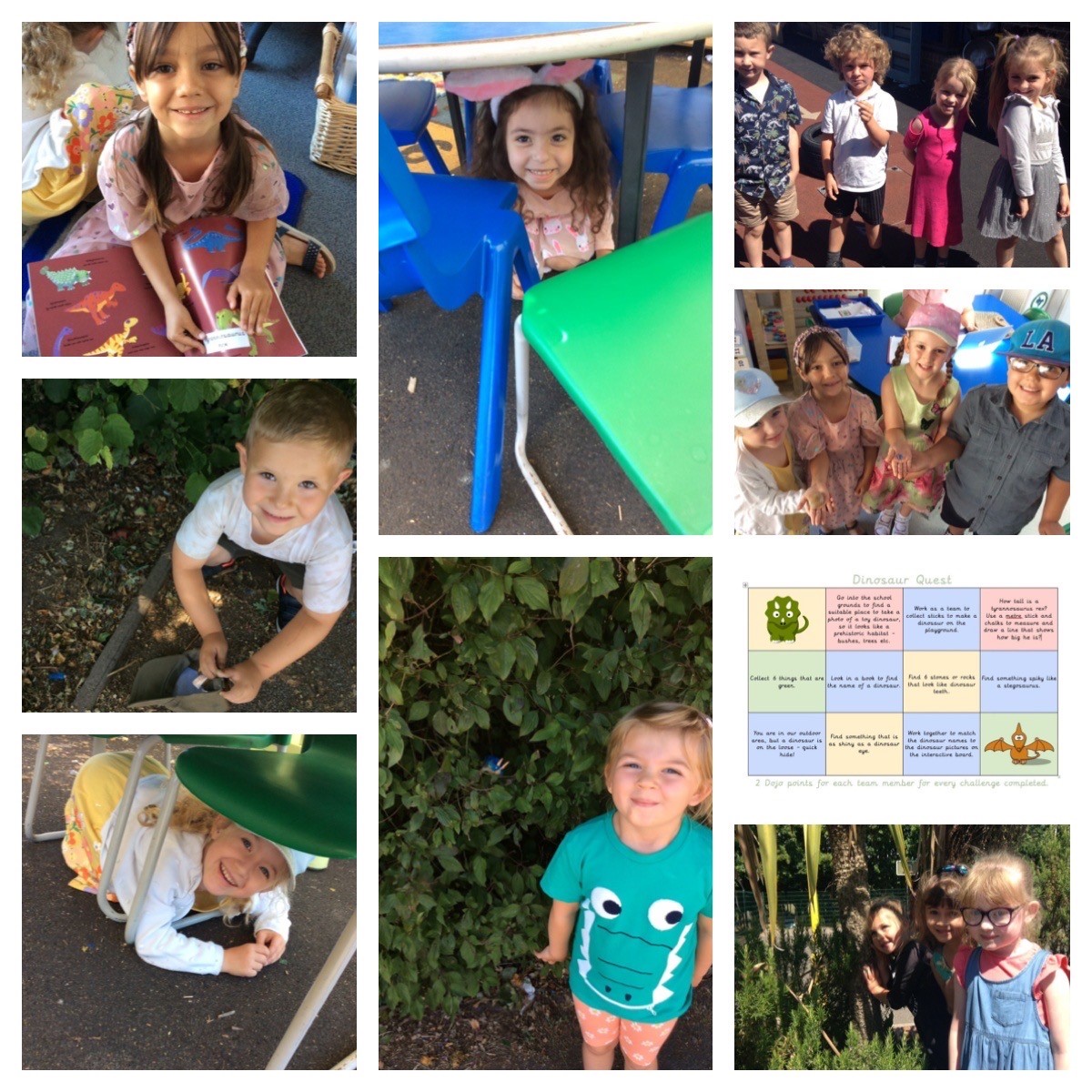 It has been a wonderful year building memories with your children and watching them grow, and now they are ready to continue their journey into year one.
Thank you all for your support, but the biggest thank you is for the Bears.
You have been amazing - thank you!