Colour and Pattern - The Rainbow Fish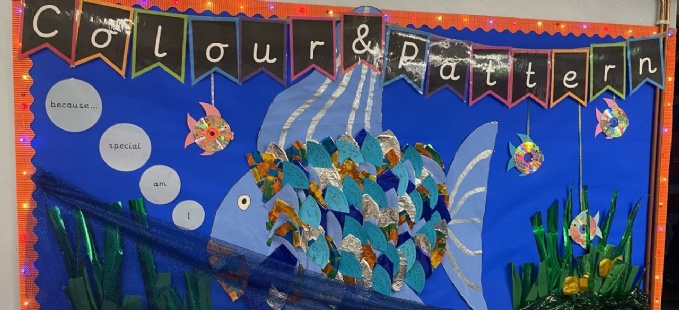 We welcomed the Bears back to school with the Rainbow Fish story and a new Colour and Pattern topic. Rainbow Fish is a beautiful story written by Marcus Pfister, about a gorgeous, shiny, shimmering fish that discovers the joy of sharing. The children worked together to create a Rainbow Fish small world for them to explore and retell the story. They have loved re-creating the story with friends, and the storytelling helps them to develop their creativity and imagination.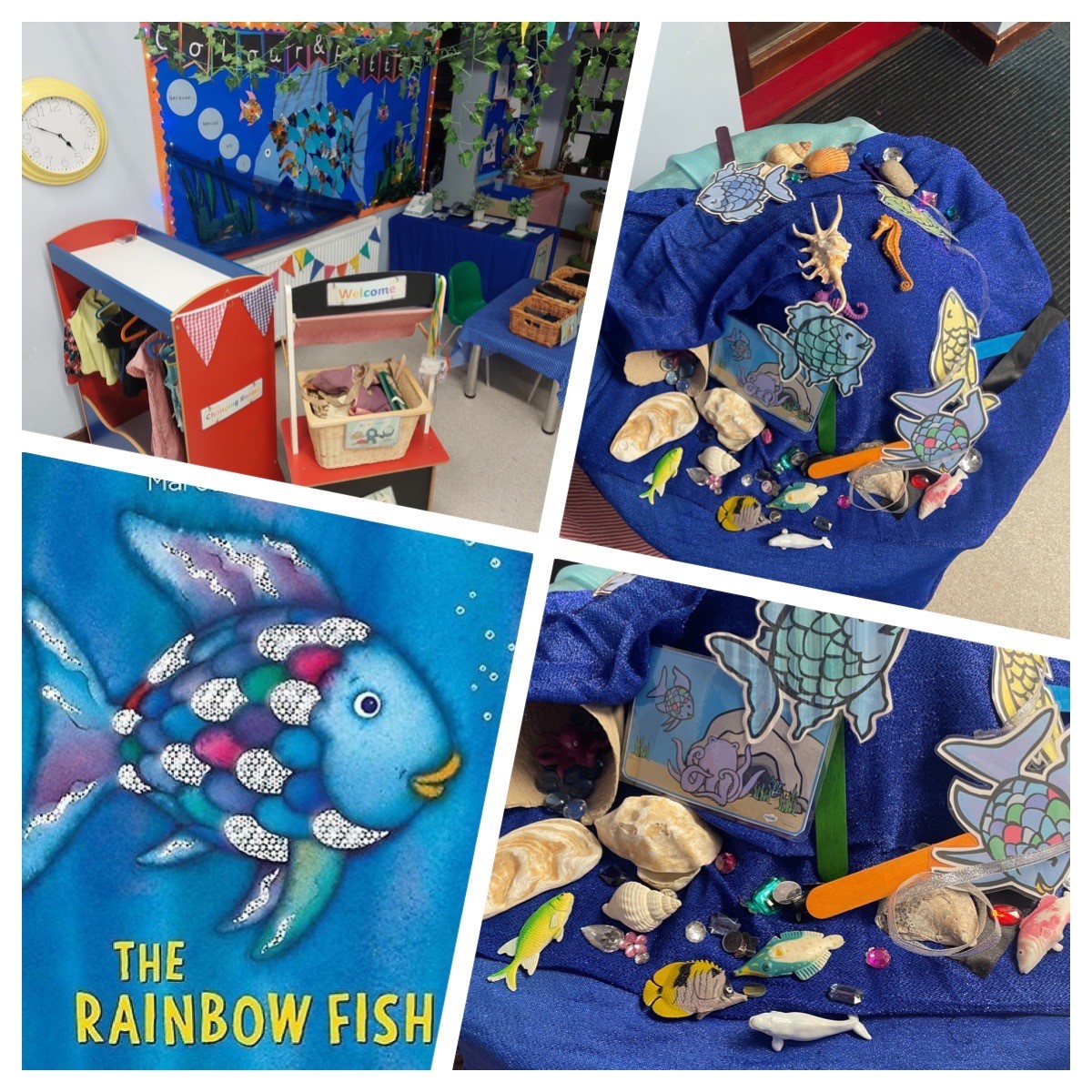 On our yellow table, we created art work to build an underwater display above our carpet area, with colourful scale pattern fish, bright stripy patterned fish and shiny CD rainbow fish. Some of our materials were a little unusual - celery, CDs, and bubble wrap, but we have also used paint, pastels and collage materials that we are more confident with. We painted a sea background in shades of blue and green, then added collage materials to build our underwater scene, before attaching our coloured card spring Rainbow Fish.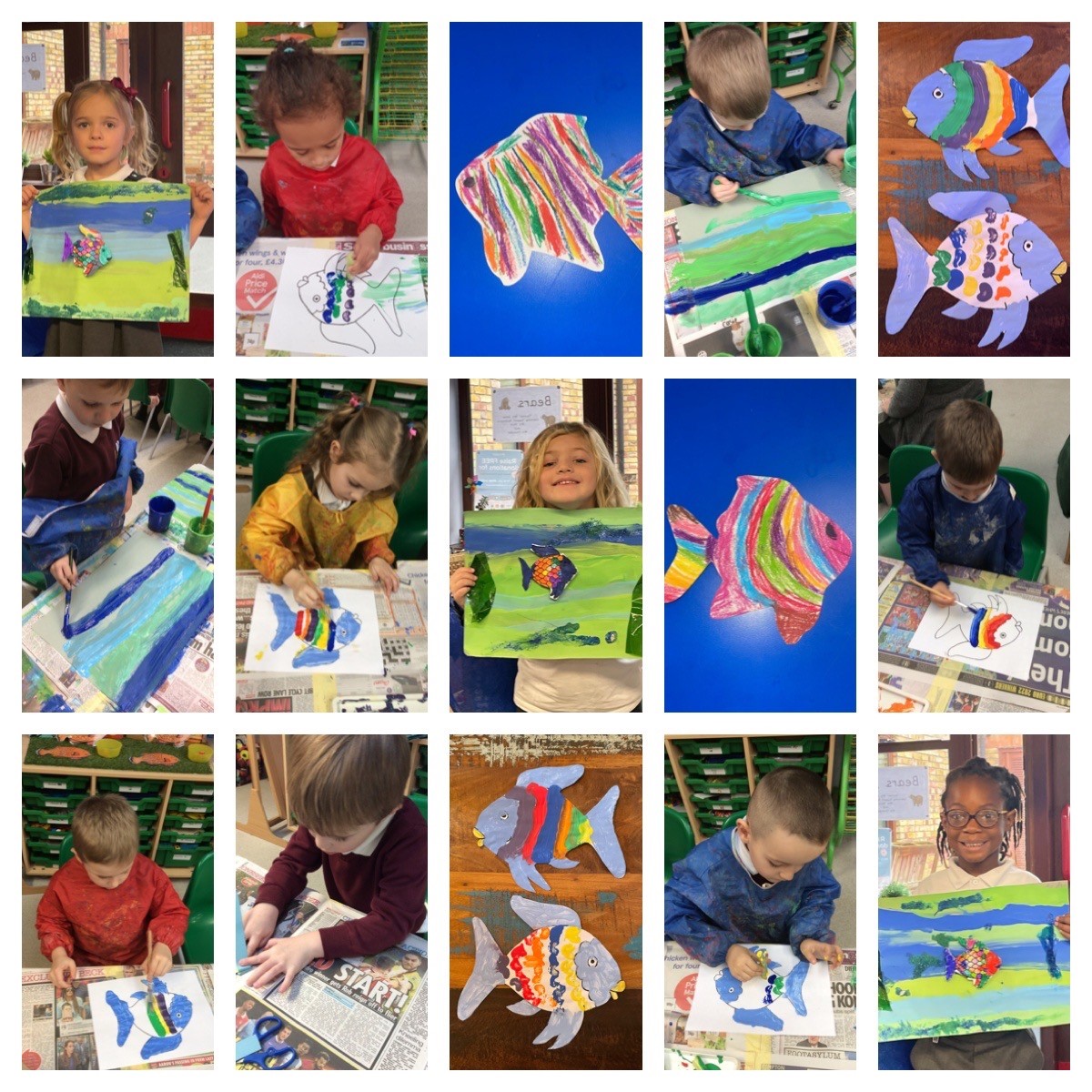 On the writing table, we wrote a Christmas recount and traced lines using coloured pens to develop our fine motor control. We listened to the story of the Rainbow Fish, and together we made a story map to help us use story language to retell the story. We read or listened to the colour words to make a colour wordbank to use in our topic. We labelled the parts of the Rainbow Fish, and found labels in the sea information books in our class. Finally, we wrote a description of the Rainbow Fish, using phonics mats and our colour wordbank to help us.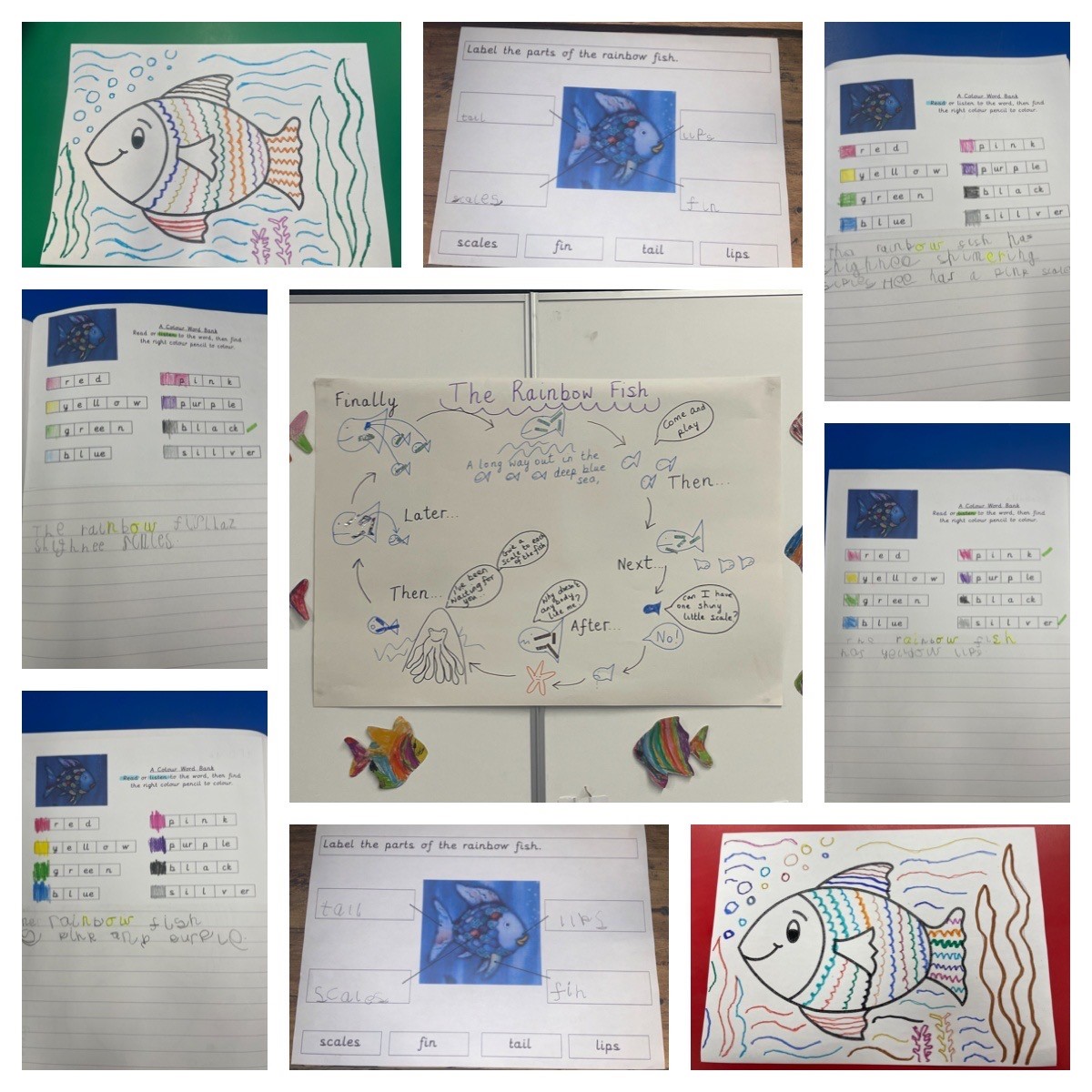 In maths, we explored number 6 with counting games, number formation activities, 10 frames to see that 6 is 1 more than 5, sorted representations of 6 and not 6, and found many ways of representing 6 with different maths resources.
On the practical table, we created an underwater transient art scene with playdough, shells, pebbles, and pipe cleaners etc. We made textured patterns on our fish and added shiny sequin scales. We used the iPad to take photos of our underwater creations. Later in the week we moved onto modelling Rainbow Fish with clay. Our playdough fish had helped us to develop our skills to use the tools to create textures in the clay. The children loved them, and I'm sure they were just as excited to share them with you at home.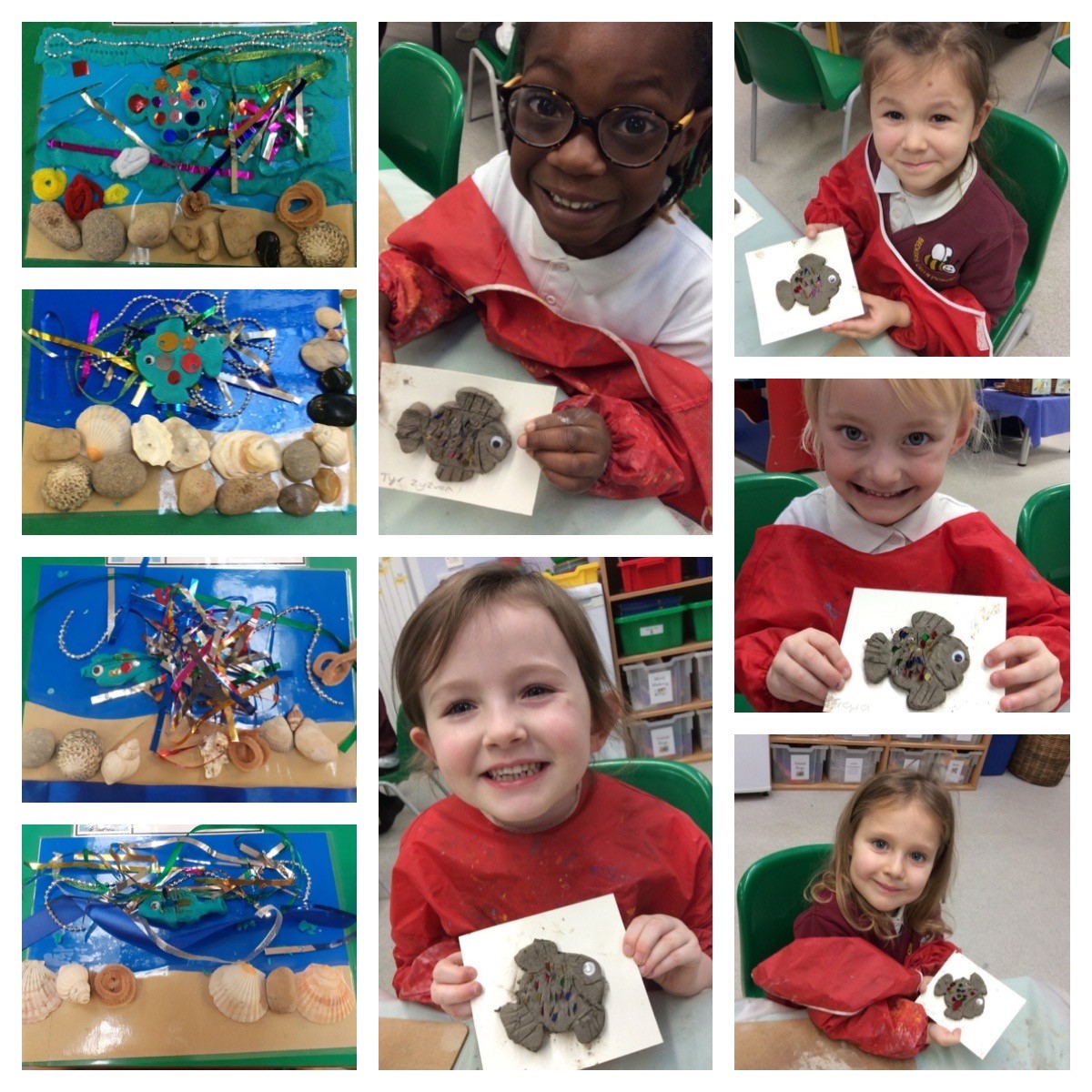 We worked together to create a large Rainbow Fish for our Colour and Pattern display. We painted, collaged and wrapped shiny paper to make colourful scales. Then we thought about why each of us were special and wrote a scale to say I am special because...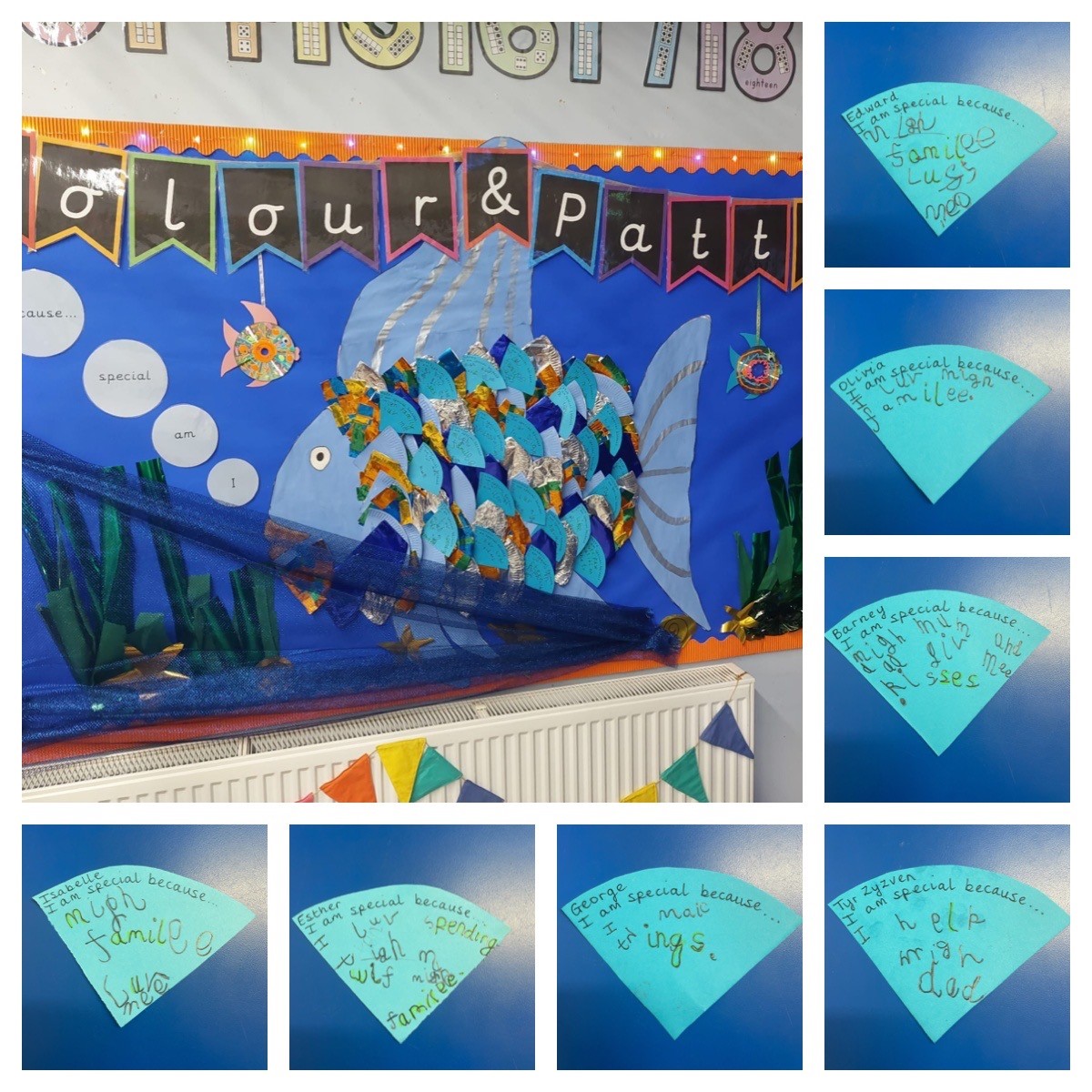 Next, a patchwork elephant named Elmer.