Come Outside - Jasper's Beanstalk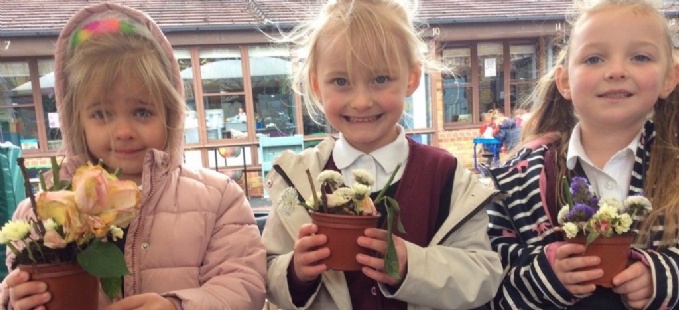 We start our summer term with a new topic - Come Outside. Our classroom is looking lush and green with leaves, beanstalks and beautiful blossom trees.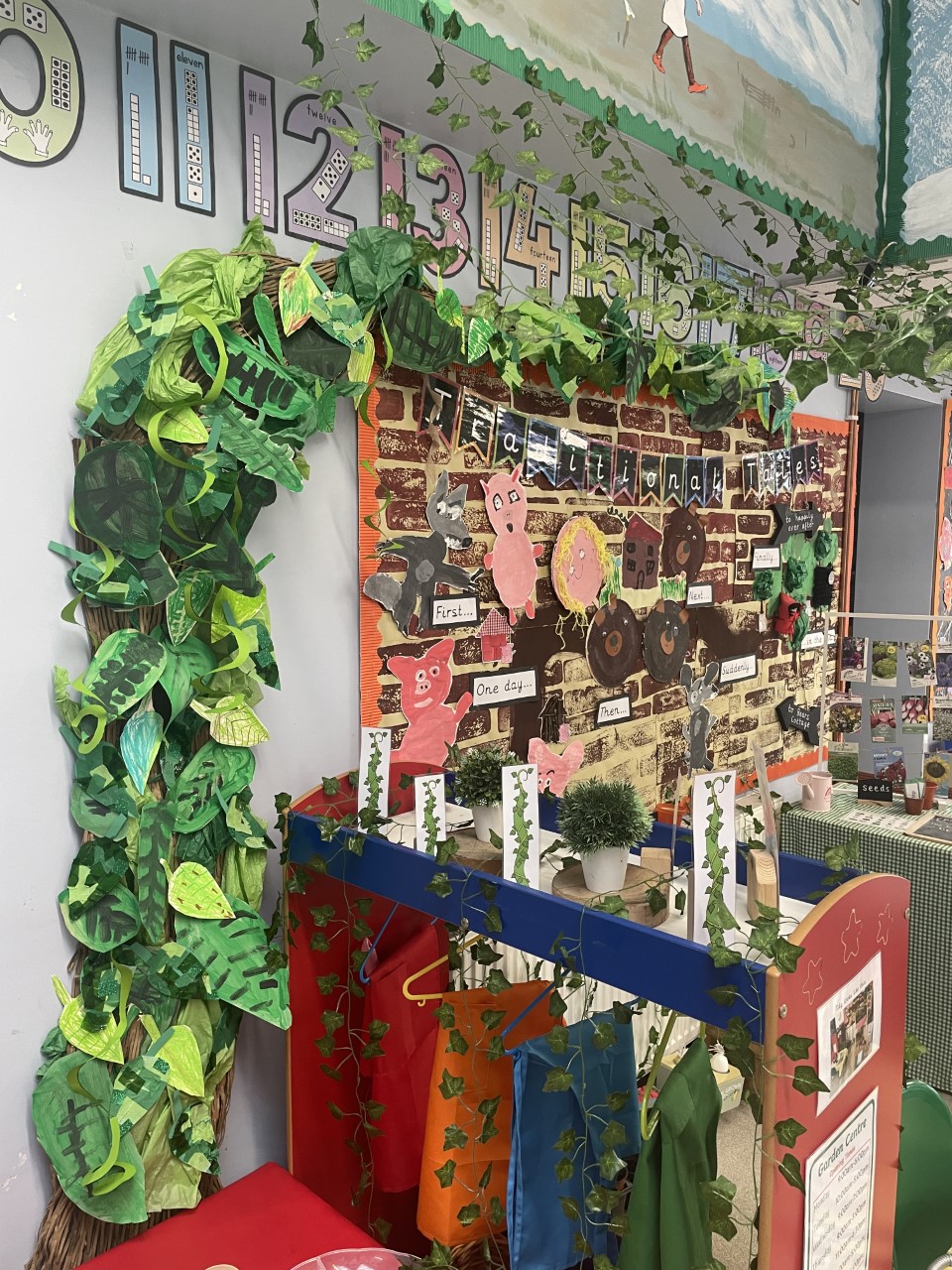 Our first story to explore is Jasper's Beanstalk written by Nick Butterworth and Mick Inkpen. Jasper is a frustrated gardener who wants to grow a beanstalk, but he grows impatient so digs the bean back up and throws it away. The Bears have planted beans I hope we don't have the same troubles. We wrote instructions for planting our beans, and we used time language to sequence our instructions. We will record the growth of our beans in our bean diaries.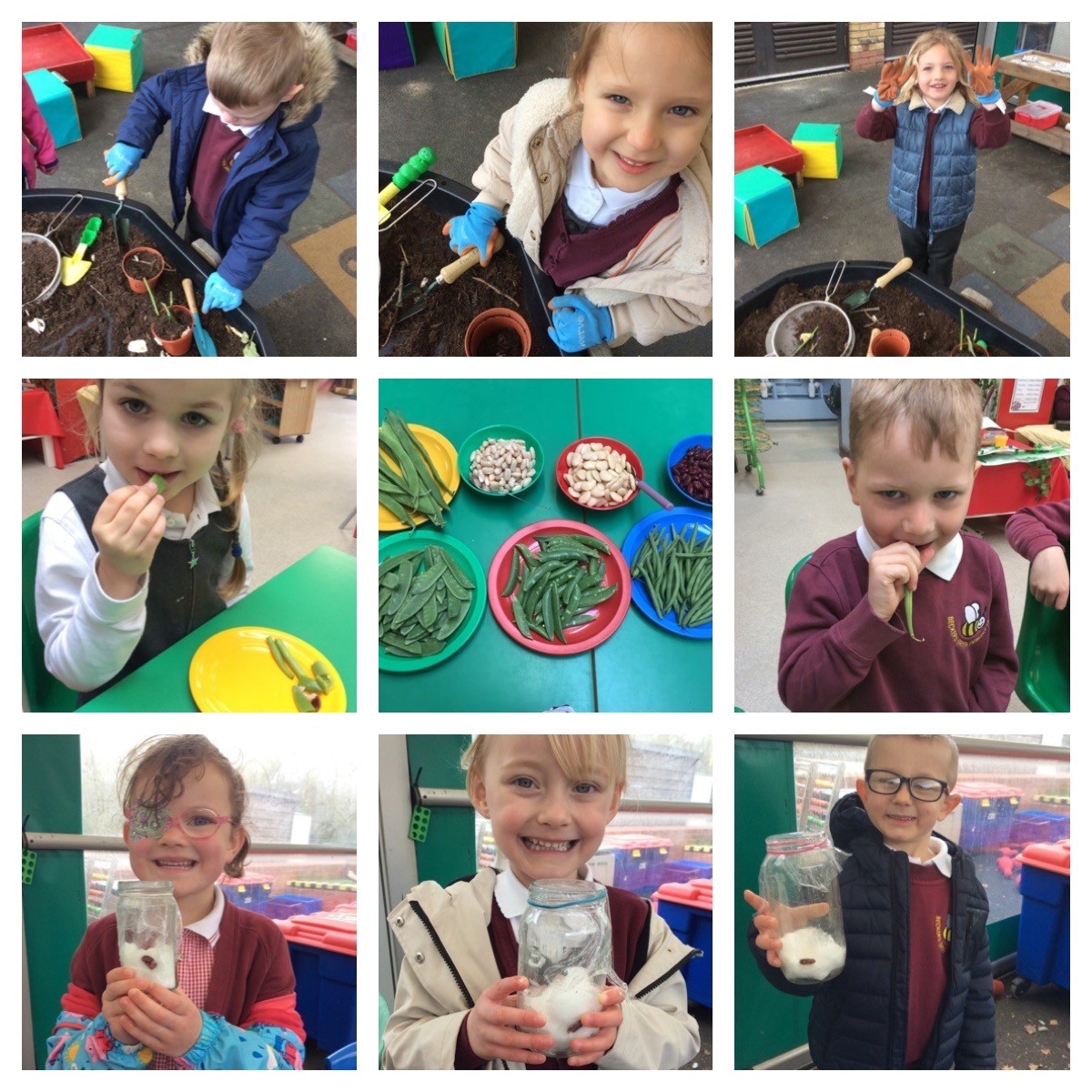 Jasper waited and waited for his beanstalk to grow. The Bears wrote a diary of what Jasper did each day to encourage his beanstalk to grow.
While we waited for our beans to grow, we created a tall class beanstalk, making leaves using different media to add to the stem. On our creative table we also painted our own beanstalk by mixing paint to create different shades of green. We are going to climb our beanstalk. We wondered what we would find at the top, so painted our ideas and wrote a sentence to describe them.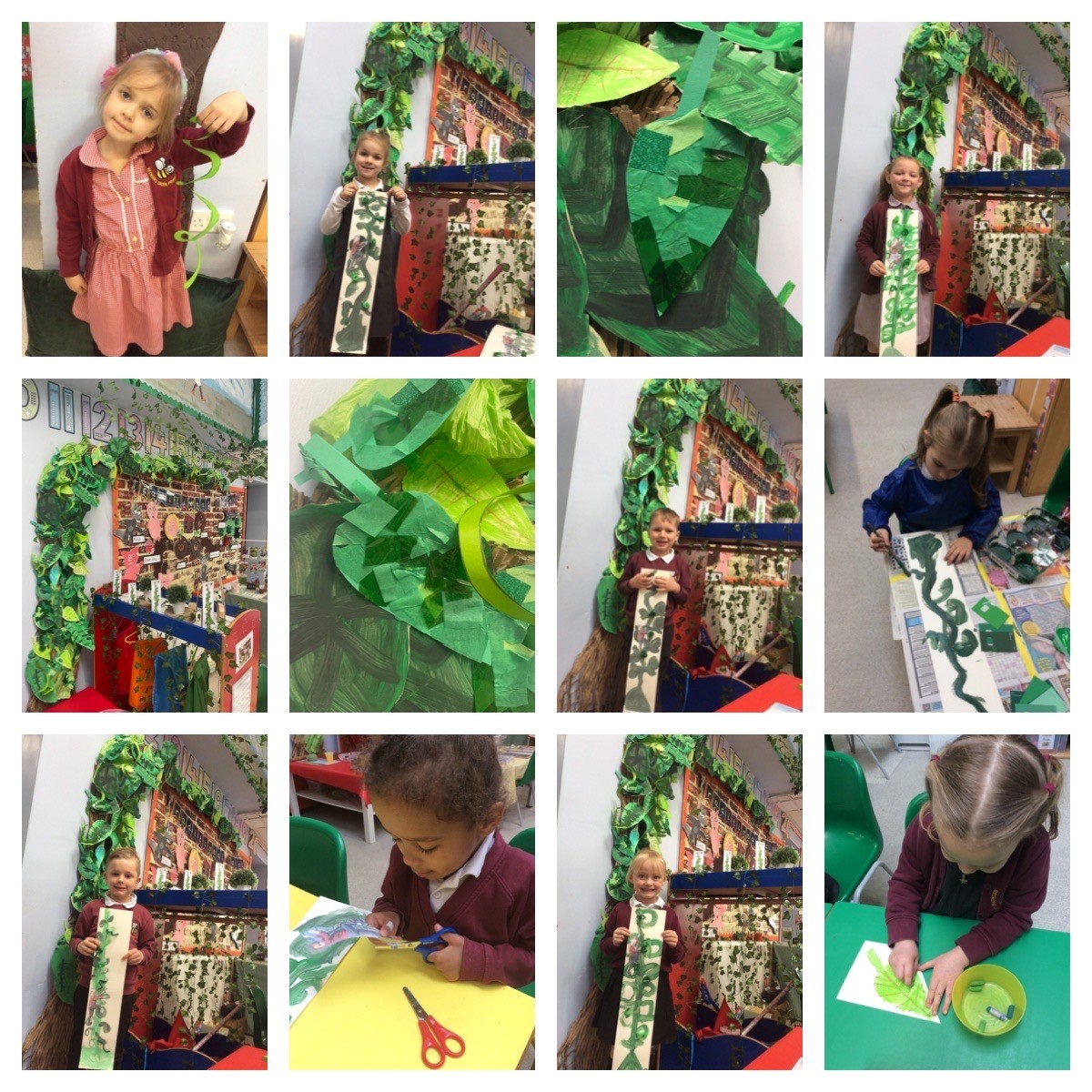 In role play we have a garden centre to sell and buy everything garden, helping us to learn new vocabulary and negotiate and play with others. On the small world we have retold Jasper's story with the help of the book and sequencing cards.
We used different construction materials to build beanstalks, and we constructed models of garden tools using the pictures and labels for the garden tools we had matched. On our playdough table we created a small world scene with playdough, props and characters from the Jack and the Beanstalk story.
Inspired by the beautiful blossom tree at the front of the school, we made delicate pink blossoms to bring spring to our class Tell Me Tree. Next, we went outside to look at the tree to notice how the trunk of the tree is thicker than the curving branches further up, and how the blossom sits on the branches. Then, we came inside and painted a tree and added pink and white fingerprint blossoms.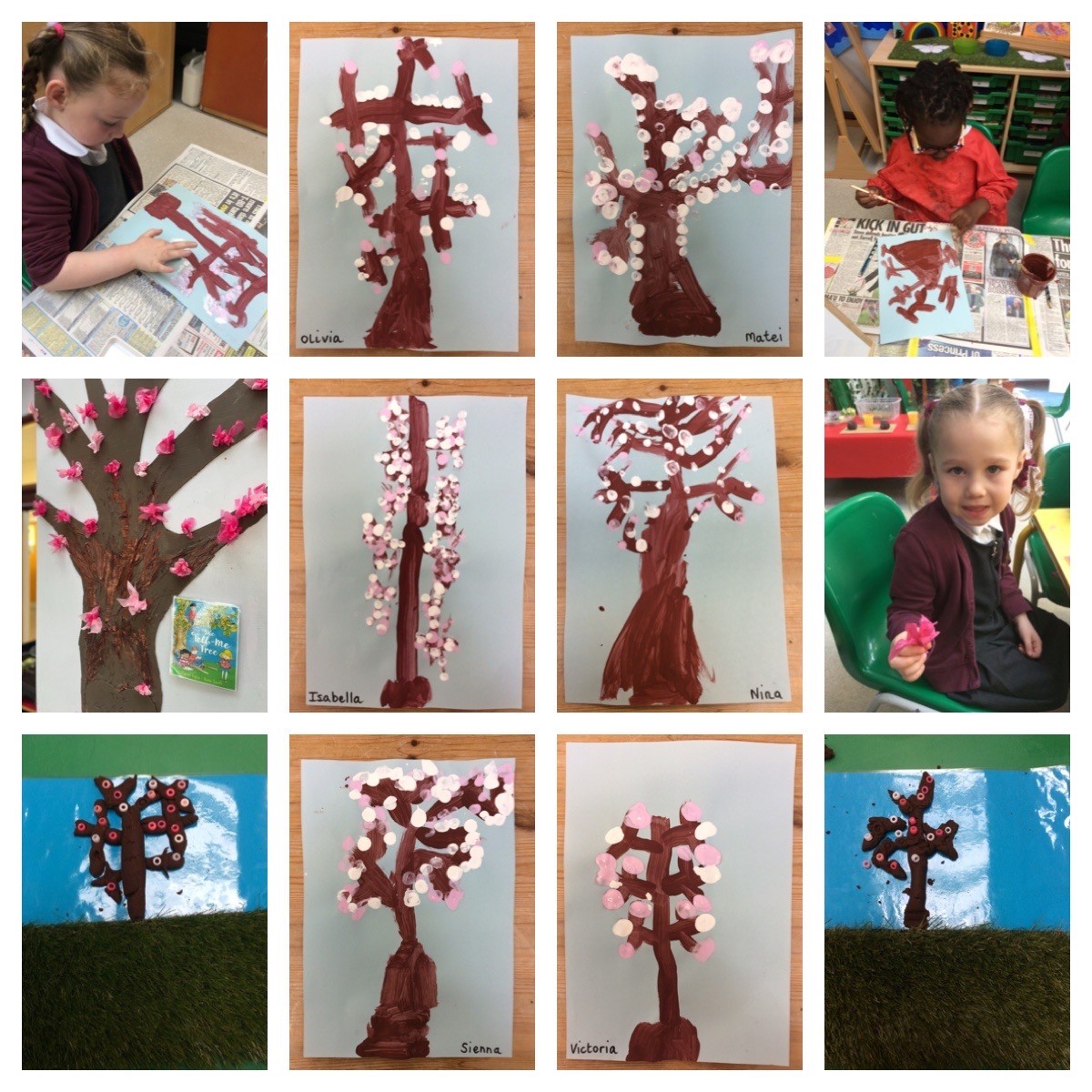 On the green table, we created blossom trees with playdough and beads.
In maths we used our subitising skills to build our understanding of equal amounts and equal groups. Our experiences with dice patterns and numbers of fingers helped us to explore doubling quantities to 10 with maths equipment and pictorial representations. We used stem sentences to describe what we could see - 4 is made of 2 and 2 or double 2 is 4. At the end of their first week back, the Bears came home with their own set of doubles dominoes in a little bag with stem sentences to help them have a go at home.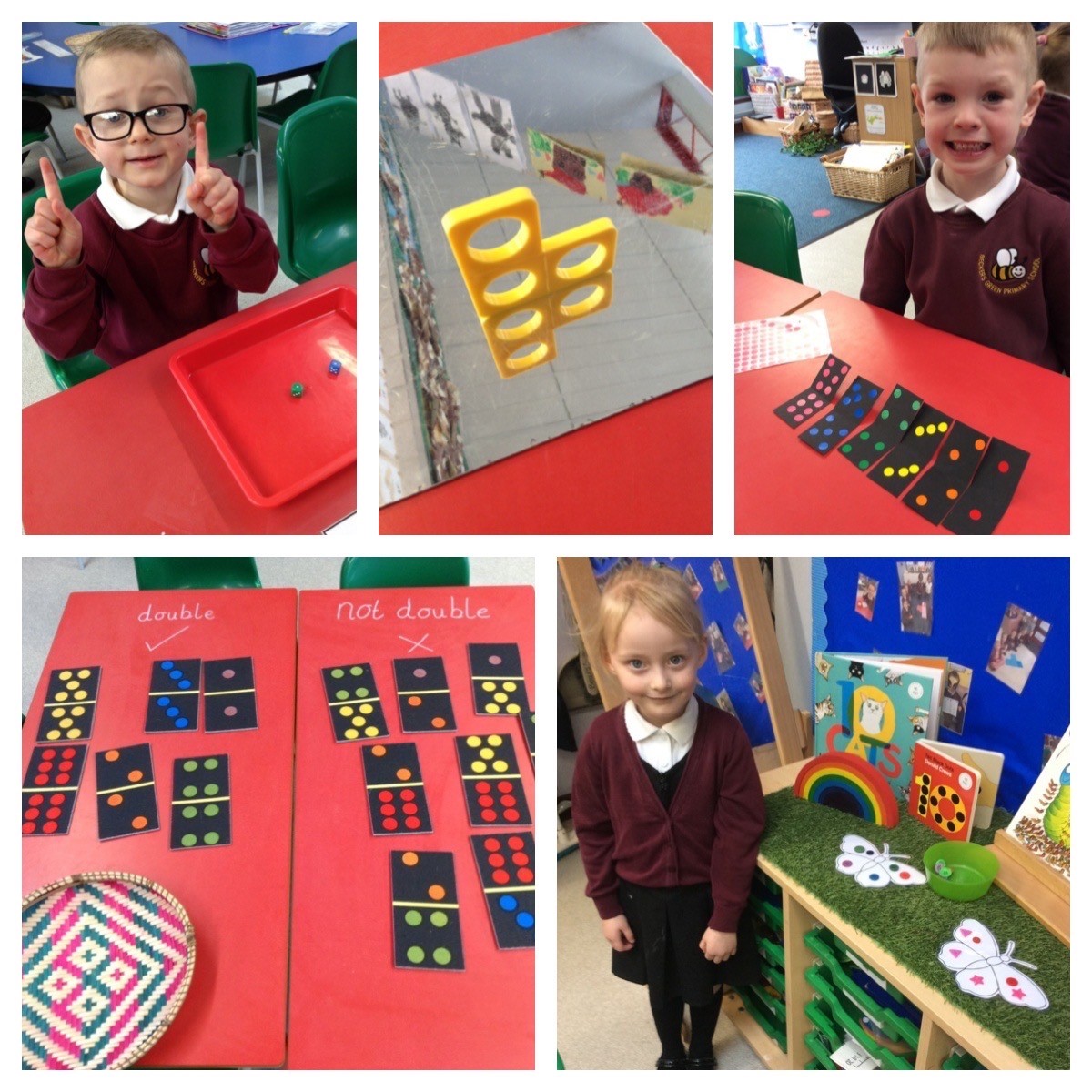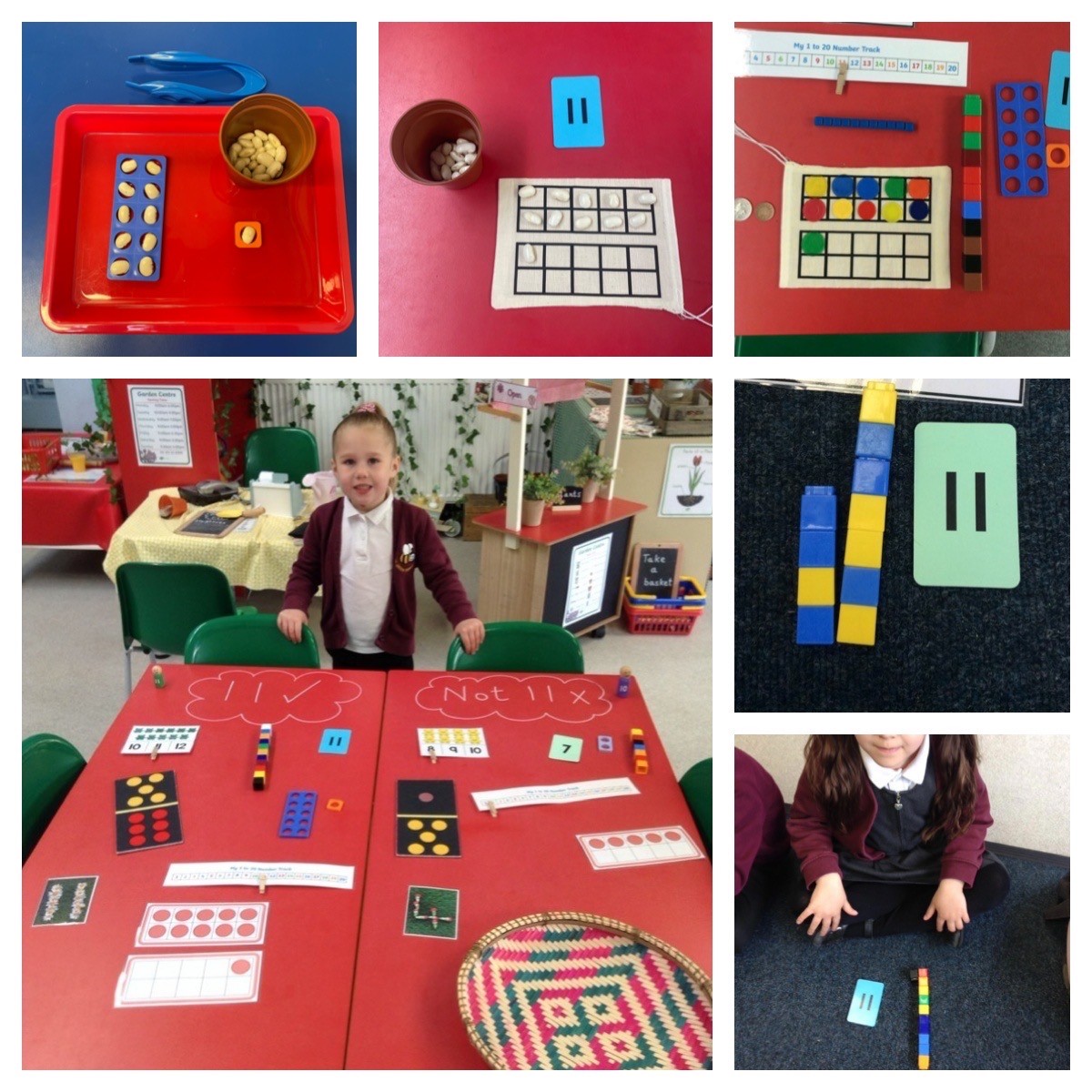 The following week we investigated number 11. We counted to 11 and back from 11 to 0. We counted physical actions and sounds too. Maths was not bean free, we counted beans into Numicon and tens frames, and ordered bean leaves to 11 on a beanstalk.
Next week we celebrate the King's coronation with a street party and the King's dog Colin, who grabs the crown and runs away. Can we catch Colin and save the crown?