Come Outside - The Tiny Seed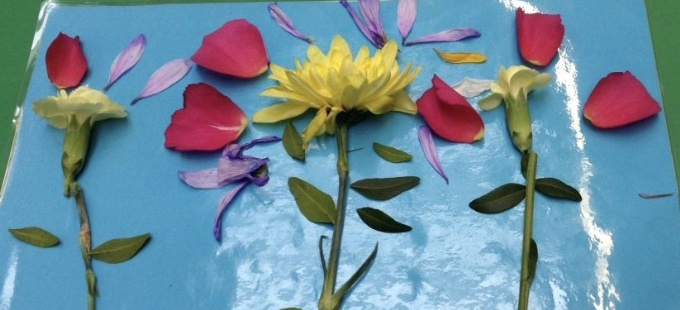 The Tiny Seed is a beautifully descriptive book that describes the journey of a seed as it survives through the seasons, to grow into a giant flower. It was the perfect finale for our Come Outside topic.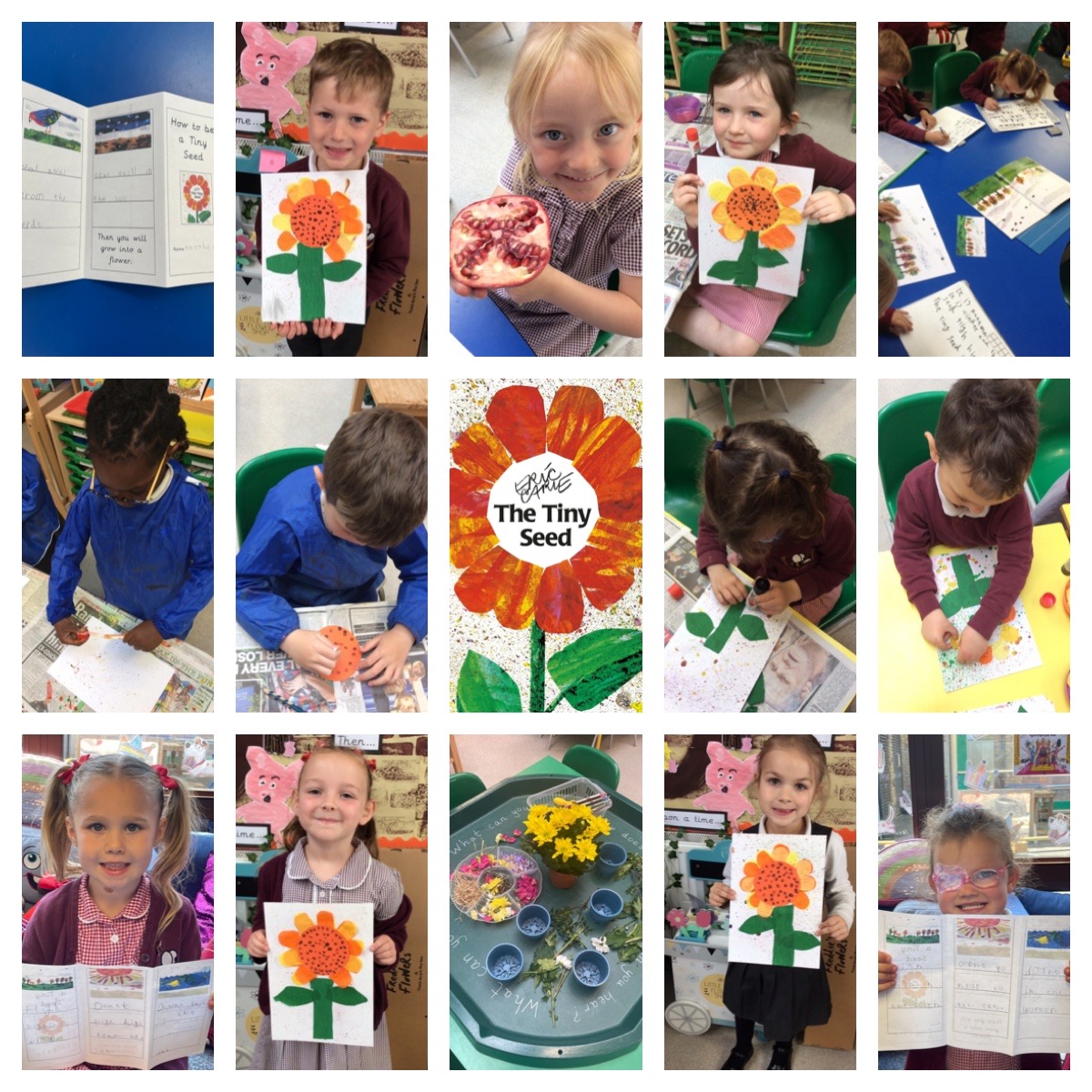 Inspired by Eric Carle's front cover illustration, we recreated our own tiny seed picture. First, we created a colourful splatter background using toothbrushes. Then we added a tissue paper stem, leaves, petals and a circular centre to our flower with a seed pattern printed with cotton buds. Our flowers look beautiful hanging in our class gallery.
We wrote our own captions for the illustrations as the tiny seed travels through the seasons. The children have developed an excellent recall of the story and have enthusiastically shared their new knowledge and vocabulary with visitors to our class. As experts on the topic, we wrote a leaflet to give advice on how to be a tiny seed that may grow into a giant flower - don't go too near the sun, stay away from birds etc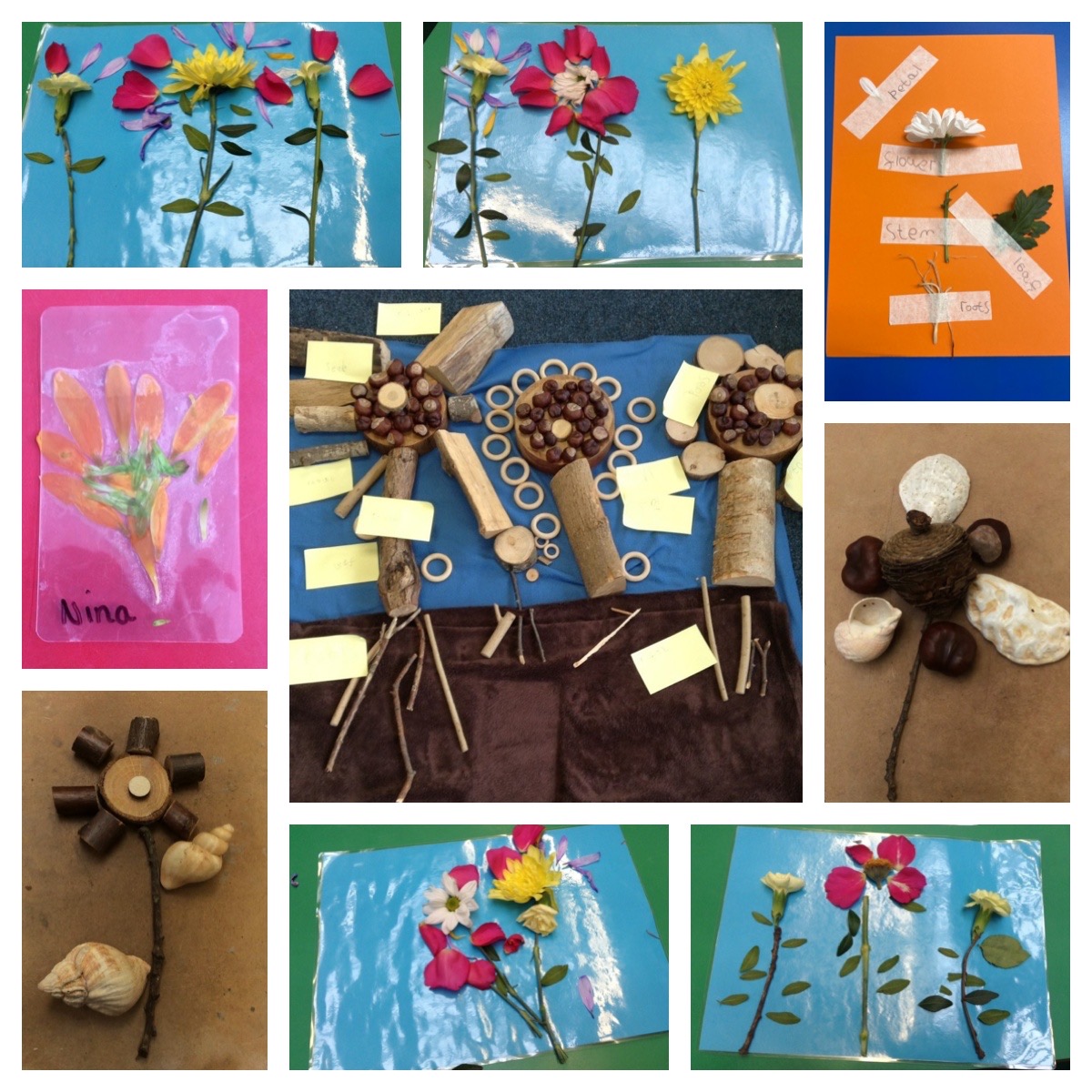 We have explored flowering plants with The Tiny Seed and other non-fiction texts about planting and growing. We labelled the parts of a flower and learnt about the lifecycle of a flowering plant.
We investigated fruits and their seeds by chopping and looking inside real fruits like pomegranate, lemons, and apples. We discovered some seeds are on the outside of the fruit, and we were very surprised to find seeds inside a cucumber!
In our construction area we built flowers with construction materials and created 2D shape and large loose part flower beds with labels.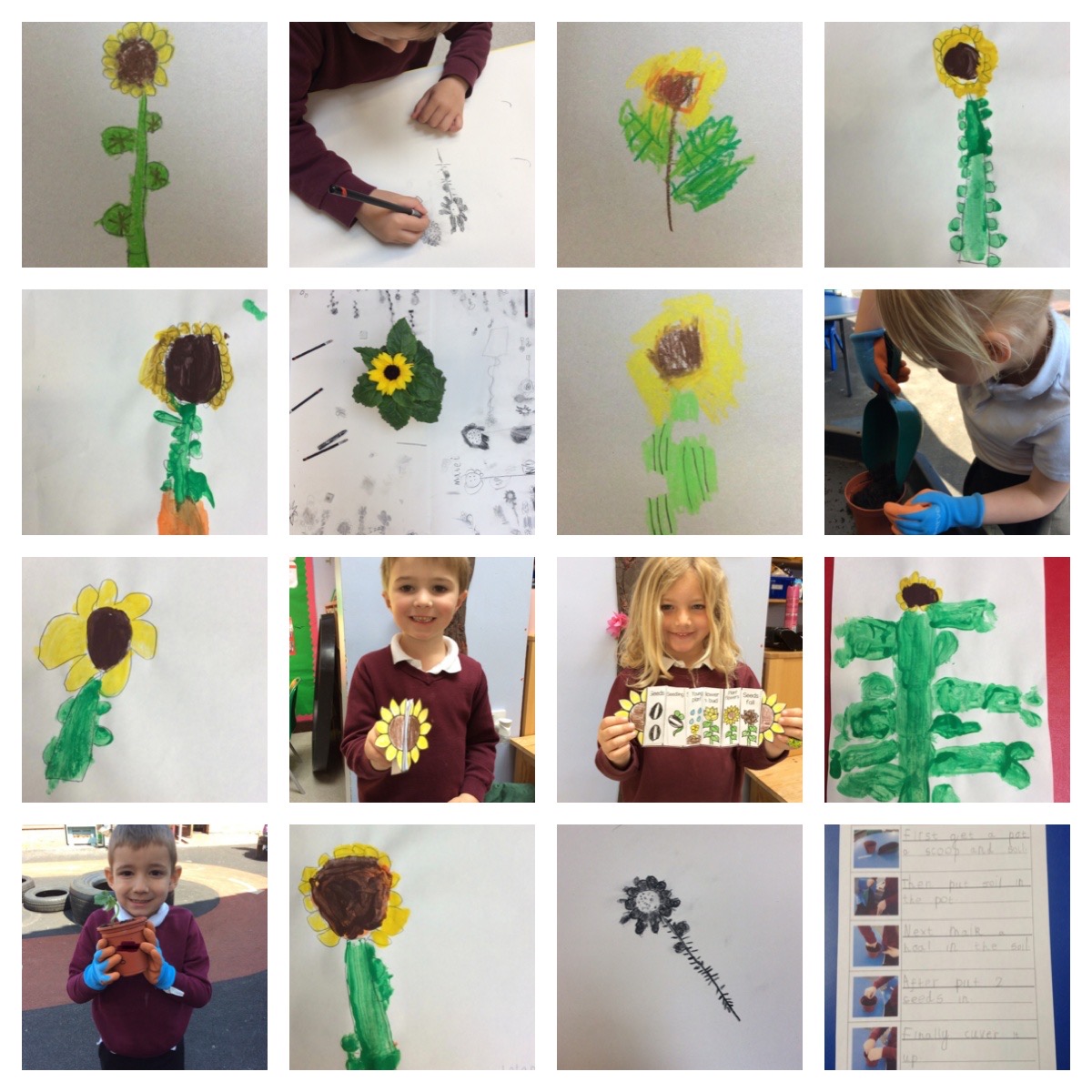 Inspired by the art of Van Gogh, we looked closely at sunflowers to draw them. First we explored charcoal (our first time), then we created sunflowers with pastels, and finally paint. How beautifully bright and cheerful our sunflowers are! Outside we planted sunflower seeds and wrote instructions on how to plant them. We are covering them at the end of each school day as it didn't take long for the pesky crow to strike.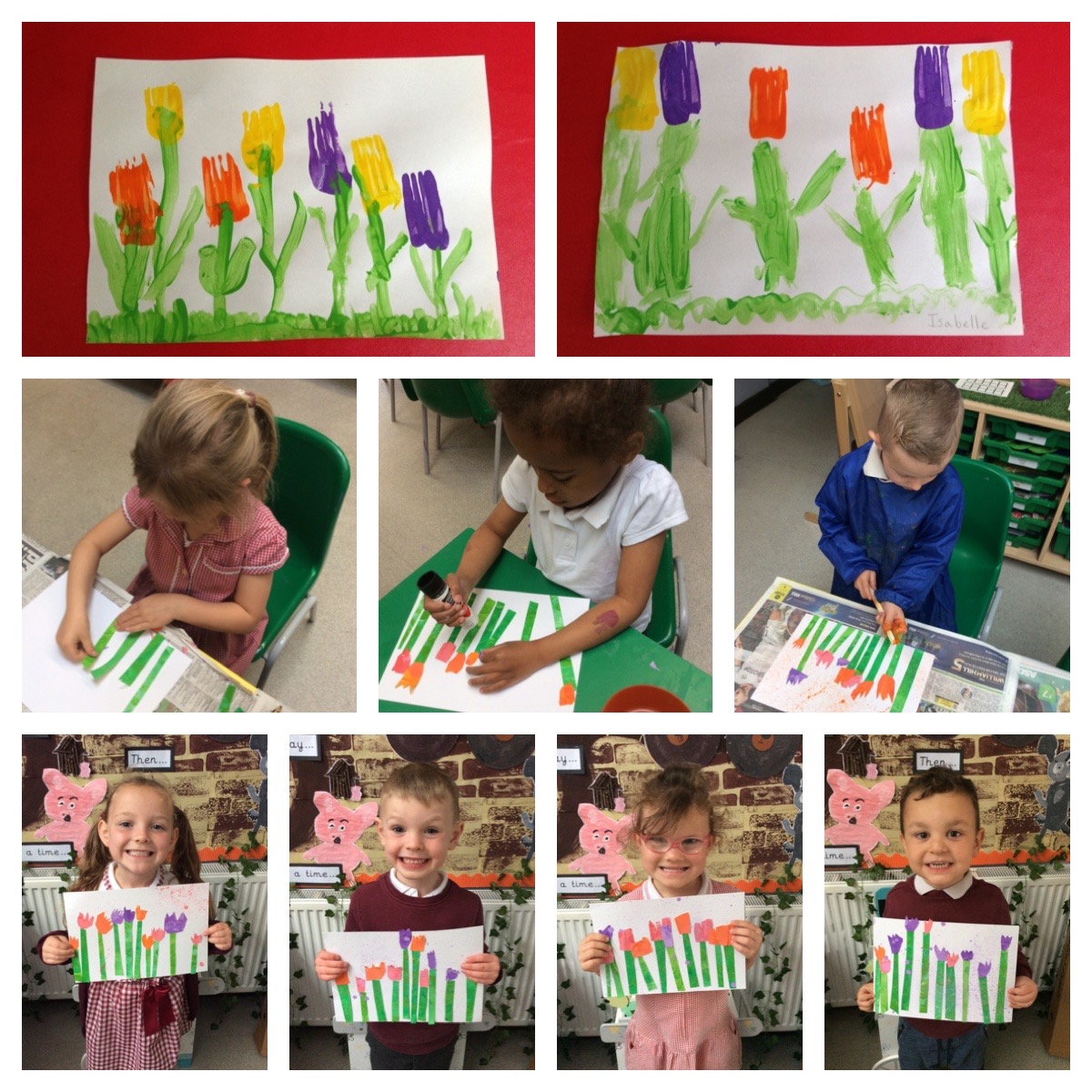 The artwork of Eric Carle (the author of The Tiny Seed and The Very Hungry Caterpillar) is instantly recognisable. He created in a collage technique with layers of painted pattern papers to make bright, cheerful images. We experimented with this technique to create a tulips and sprinkles artwork. We started by painting patterned paper in greens, pinks, oranges and purples. Then we cut the green paper to create stems, and drew and cut tulip shapes on the other colours. We stuck these to an A4 landscape piece of card, then added our sprinkles using the toothbrush method we had used for the tiny seed. At the end of the week we painted tulips with forks and added stems, leaves and grass with green paint and a paintbrush.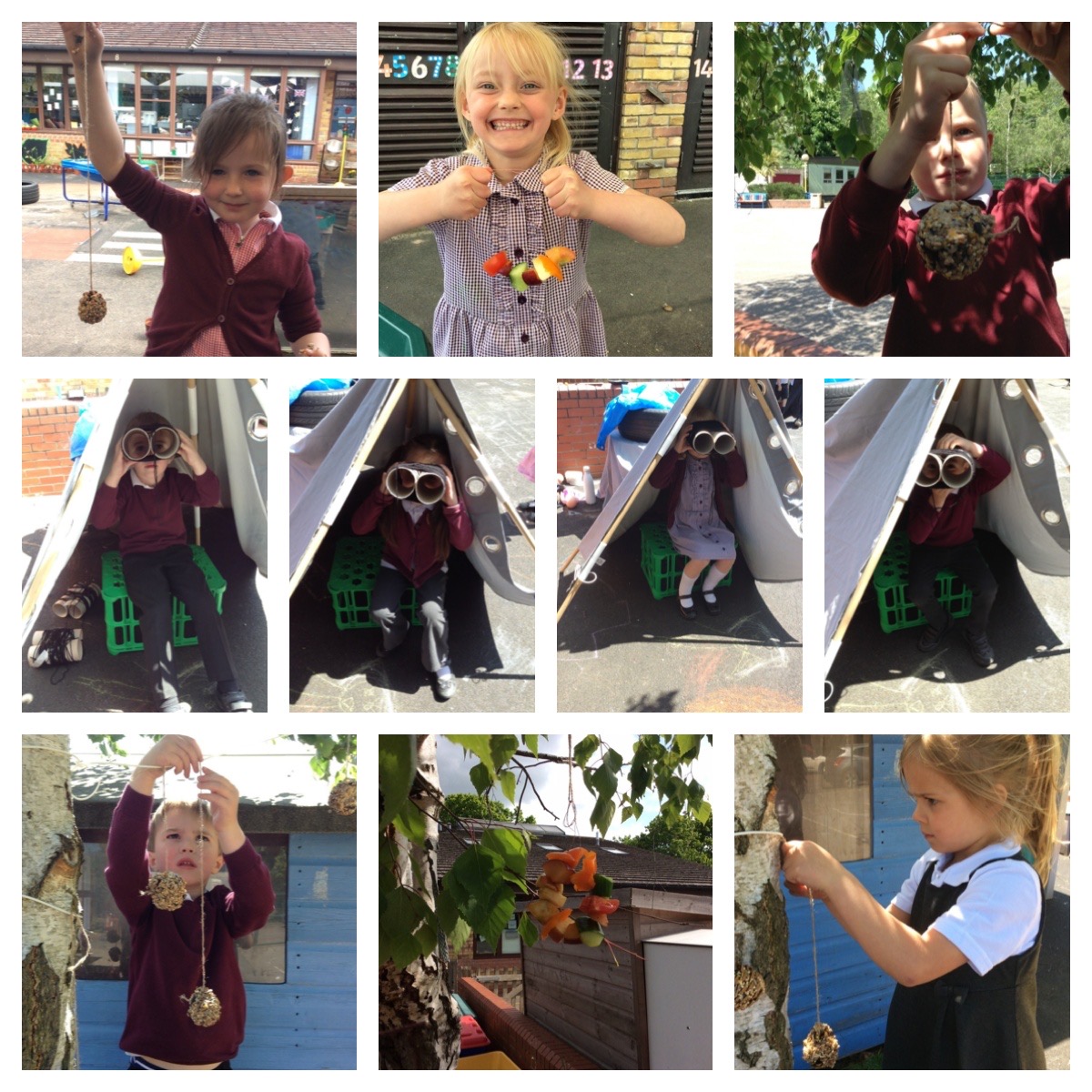 Outside we made pine cone and fruit kebab bird feeders to encourage birds to visit, so that we could observe them from our bird watching den. The Bears were very excited to notice birds were eating the food we had put out for them.
After our half-term break, we have a busy last few weeks together - sports day, a farm trip, creepy crawlies and a new topic All Creatures Great and Small.