another busy week in Dolphins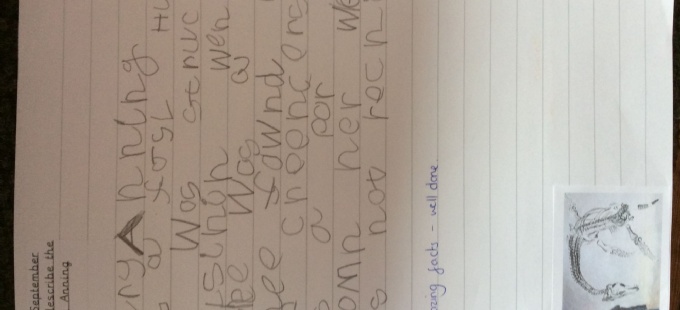 Please enter an introduction for your blog post here.
Another busy week in Dolphins, the children are settling nicely into their new routines, and they have created some fantastic pieces of work.
Congratulations
to Parker our star of the week and Luna the Dojo Champion.
In English we have been thinking about sentence structure, to complete a simple sentence we need to include a verb and a noun. We practise writing silly sentences on Wednesday, and I challenged some of the children to also start using adjectives. My favourite silly sentence,
The spikey orange cow is singing.
On Friday the children became editors for the first time by assessing their own work, making changes to their sentences, and then rewriting it to show the improvements they needed to make.
I have been so impressed with how inspired the children have been with Mary Anning during our history lessons I decided to ask the children to create a piece of writing on all the facts they could remember about this extraordinary woman. Samuel, Luna, Poppy M & Gracie were given a gold teacher award for their piece of writing on the life of Mary Anning.
Maths we have continued to reinforce partitioning numbers not only into 10s and 1s but also partitioning one number into lots of different ways. Some children looked a partitioning 10/20 while others moved onto numbers over 50. We have used place value charts, bar models and part whole models.
In PSHE we met Jigsaw Jem and welcomed them into our class. We discussed where we feel safe and one member of dolphins suggested we make Jigsaw Jem a bed in our classroom so they could go somewhere to feel safe.