Remember, Remember the fifth of November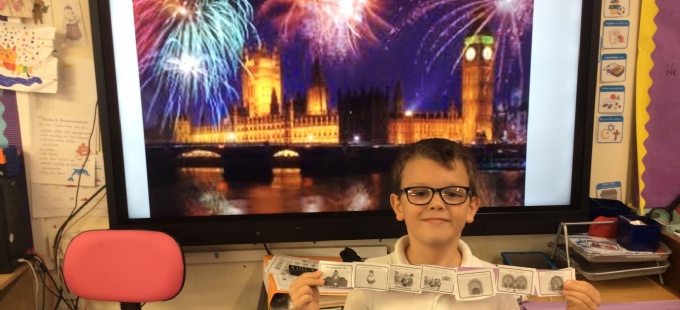 We have started our new term with a week focussed on Guy Fawkes and the Gunpowder plot. In history the children enjoyed acting out the story and completing timelines of the events that led up to King James starting the celebrations on the 5th of November.
In English the children came up with some amazing adjectives using their senses to describe bonfire night. Big, amazing flames and tasty, yummy candyfloss. I challenged the children to also use alliteration the best one: Brilliant bright bonfire and whizz wow pop fireworks.
Maths we have used our knowledge of number bonds to 10 to help us complete calculations using two-digit numbers and when adding three 1-digit numbers. 6 + 5 + 4 is the same as 10 + 5.
Phonics our tricky words this week were so, said, he, she, me, we, be and practising blending and segmenting CVCC words (tent, bump).
The children loved their first RE lesson looking at how Hindus believe that to fully worship it is much better to use all your senses and we proved this by eating chocolate. The children were very good as some of them could only look at the chocolate or touch the chocolate. One lucky class member got to use of his senses (although I caved and gave them all a piece to eat the next day).
PSHE the children paired up to find similarities with their partner. We then designed a t-shirt with 3 these on and put them on our little gingerbread friends.
On Friday we were very lucky to have a careers morning. Dolphins were very intrigued to find out about how the veterinary nurse looks after all the different animals. We also met a beautiful dog called Gemma who came in with her dog handler Alison to talk about being a dog handler for the police.