going on a material hunt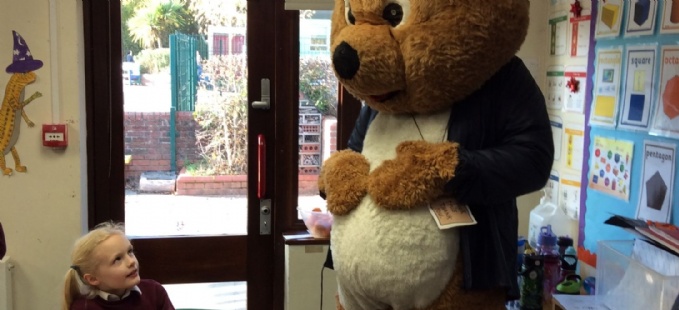 Also a visit from Paddington Bear
In Dolphins this week we have looked at the importance of keeping our teeth clean and how to brush our teeth correctly. Using multi-link for teeth the children practised how to use a toothbrush by moving it gently in small circles and how to apply the correct amount of toothpaste. We discussed why it is important to keep our teeth healthy and the children even got to take a new toothbrush and tooth paste home.
We had 2 visitors in class on Wednesday. The first a giant Paddington bear with suitcase and marmalade off to have an adventure in London. This helped inspire the children's adventure story seeing the bear in the flesh. Our second visitors were two very friendly and sweet Guinea Pigs Pidge and Podge. The children were very excited to hold the animals and stroke them.
On Friday we started our materials theme in science. We first named all the materials we could find and then discussed the properties of each material. I challenged the children to go on a material hunt and name the object, material and two properties of that material. Some children used opaque, flexible, and transparent in their writing.
Maths we have emerged ourselves in 3D shapes looking at faces, edges, vertices, and sorting. The children have impressed me with their ability to explain how we can identify the shapes and how to accurately count their properties.