River deep and mountain high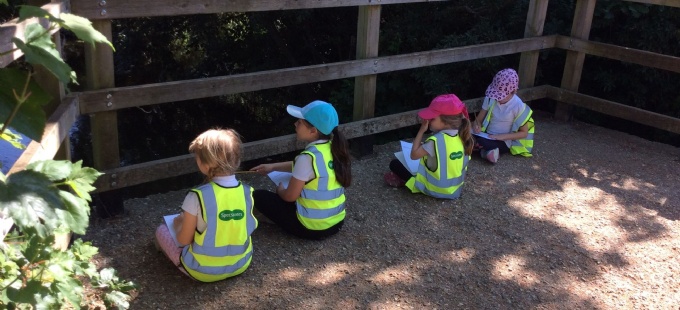 The dolphins have dived deep into learning about rivers over the first two weeks of this term. We have found out about how they flow by creating our own rivers and used map skills to plot the river Blackwater. Last Friday even in the heat the children had a fantastic time at the river Blackwater finding human features, bug hunting, leaf detecting and map drawing. We also took litter pickers and couldn't believe how much litter we collected.
Back in class we discussed the litter we had found at the river and how it made us feel. We decided to write a letter to the local secondary schools, King Charles, and Braintree Council to ask them to help with the litter and explain why river pollution not only harms the water but the animals that live there.
In RE we have started to answer the question how did the universe come to be? Looking at the Hindu and Christian story of creation we have come up with lots of questions about the different gods and answers about how earth appeared.
Maths we have lots of fun with statistics gathering lots of data from eye colour to favourite sports. We have recorded our findings with tally charts, block charts and pictograms. We have interrupted data answering questions of the most popular ice cream flavour to how many children cycle to school. With pictograms we discovered that we could change the key and use a symbol to represent 2,5 and 10.
In PSHE we had lots of fun trying to discover which baby photo belonged to which child in Dolphins class. It inspired a great conversation about how even at 6 or 7 years old how much the children have already changed.